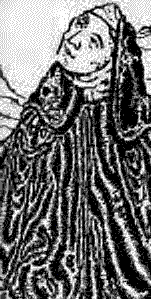 Portrait of Hildegard von Bingen by Rodney Caines. Courtesy of Norma Gentile, Healing Chants website. Used with permission.
About the image above:
Hildegard von Bingen, Composer, Medieval / Renaissance period.
September 2000
DW3 Classical Music Resources
DW3 (Duke World Wide Web) Classical Music Resources is the most comprehensive collection of classical music resources on the Web with links to more than 2,000 non-commercial pages/sites in over a dozen languages. Since its inception in September 1999, the site has received more than 150,000 hits from around the world. It has been favorably reviewed and/or cited in a number of publications, including Library Journal, Choice, USA Today, the Raleigh News and Observer, and the Bangkok Post. Library pages and catalogs with links to DW3 include, the Library of Congress, the British Library, the Music Library of Sweden, Oxford University, Yale University, and the Julliard School, to name but a few.
The site is comprised of 120 well organized, subject-specific pages and features a powerful, easy-to-use internal search engine; multiple access points for hundreds of entries, including "see" and "see also" references; numerous links, in the form of "canned" subject and author searches, to the Duke online catalog; and composer-specific pages and links organized by historical period for enhanced browsing.
Portraits of composers representing three of the six historical periods under which resources for composers are organized within the DW3 Classical Music Resources collection.

| | | |
| --- | --- | --- |
| Johann Sebastian Bach, Composer, Baroque period. Portrait of Bach courtesy of Dave's J.S. Bach Page. Used with permission. | Wolfgang Amadeus Mozart, Composer, Classic period. Portrait of Mozart courtesy of Joe Moreno, creator of The Mozart Experience web site. Used with permission. | Mikis Theodorakis, Composer, Later 20th Century period. Photograph courtesy of Guy Wagner and the Archives of the Theodorakis Foundation FILIKI. Used with permission. |
DW3 Classical Music Resources is intended to be an educational tool, and as such, it contains few (if any) links to overtly commercial sites. It is intended to be an alternative to the multitude of highly commercial Web resources that offer advertisements in place of information, and to less comprehensive, poorly maintained and/or organized, non-commercial sites.
Unlike commercial information providers such as AltaVista and Yahoo!, where, at any given time, 20-25% of the links in their database are broken, all of the links in DW3 are checked weekly. Consequently, the percentage of broken links in DW3 is less than 1%, and nearly all of those are tagged. (In other words, what you see is what you get!)
DW3 Classical Music Resources is located at <http://www.lib.duke.edu/music/resources/classical_index.html>.
Contributed by:

Yale Fineman
User Services Librarian
Duke University Music Library
<yale@duke.edu>
Copyright (c) 2000 Yale Fineman