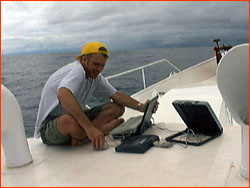 Photograph of Mark Hoover transmitting a dispatch from the deck of a sailboat while tracking El Nino, February 19, 1998. Copyright NOVA Online. Used with permission.
Have you ever imagined yourself as a scientist who could explore the world from artic tundra, to thick, hot jungles, to deserts, to seas? Have you wished you could travel to the tops of mountain peaks, the depths of caves, or even to outer space? Most, if not all, of us lack the ways and means to satisfy our boundless curiosity about the world, but we can taste of these scientific adventures vicariously, thanks to the PBS science series NOVA and the associated NOVA Online collection of web sites.
NOVA is seen in more than 100 countries with an average of 8.5 million viewers in the US alone. Produced for the Public Broadcasting Service (PBS) by the Science Unit at WGBH Boston, NOVA's approach is to:
"select a topic of great interest to viewers and then produce a film that is as entertaining as it is informative, using the tools of good pacing, clear writing and crisp editing. Equally important, NOVA shows the human story behind the science story. Whether exploring a galaxy or an atom, the series delves into the personalities responsible for the discoveries, and the social consequences of events in the lab."
Complementing the NOVA television series, NOVA Online is a rich collection of web sites that extend the reach of every broadcast program. Using RealAudio clips, QuickTime virtual reality, Shockwave games, video streaming and more, NOVA Online enables its Internet audience to travel with scientists and explorers to remote parts of the world - sometimes in real time!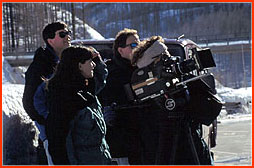 Photograph by Kate Churchill.
Copyright WGBH Educational Foundation.
Used with permission.
Each feature from the award winning NOVA Online collection provides in-depth information, organized in a way that will appeal to learners of all ages.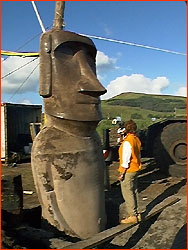 Photograph by Liesl Clark, NOVA Producer. Preparing an experiment to try lifting a maoi statue at Easter Island, April 27, 1998. Copyright NOVA Online. Used with permission.
As just one example from the dozens of NOVA web sites that have been created, on February 15, 2000, PBS aired "Secrets of Lost Empires: Easter Island," but earlier (in April 1998) NOVA Online created a web site, "Secrets of Easter Island", as part of its NOVA/PBS Online Adventures series. (These adventures "follow scientists and explorers into the field, reporting on science as it happens and allowing the Internet audience to participate via e-mail.") If you visit the NOVA Online web site "Secrets of Easter Island," you will find 15 dispatches from the field authored by NOVA producer, Liesl Clark. You will also find e-mail from the Internet audience, including theories sent to the scientific team about ways to move and erect the moai, along with responses by team scientists sent from the field. The contents of the "Secrets of Easter Island" web site also include profiles of team scientists, historical information about Easter Island, maps, photographs, audio files, videos, and even an interactive game called "Move the Moai." For those who want even more information about Easter Island, the web site provides a resource list of books and links to external web sites on the topic. NOVA Online provides a wealth of information for teachers. Please see the list of links below:
NOVA Online makes available, free of charge, full transcripts of programs that aired from January 7, 1997. Transcripts of programs that aired prior to that date are available for purchase, as are a selection of videotapes and DVDs of NOVA broadcasts.
If you want to know more about science from A to Z, you will enjoy exploring the NOVA Online collection at: <http://www.pbs.org/nova/>.
Courtesy of:
Jessica Maher, Unit Manager and
Lauren Aguirre, Executive Editor
NOVA Online
Copyright (c) 2000 The Corporation for National Research Initiatives