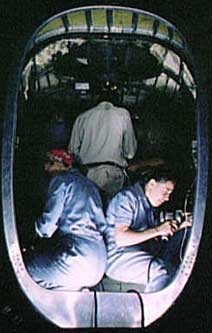 Working inside the fuselage of a Liberator Bomber, Consolidated Aircraft Corp., Fort Worth, Texas. Photographer: Howard R. Hollem. Courtesy of Library of Congress, Prints & Photographs Division, FSA-OWI Collection [Reproduction number: LC-USW361-24 DLC].
The image above is from American Memory Historical Collections from the National Digital Library, D-Lib Magazine's featured collection this month.


William Y. Arms
Editor in Chief
Cornell University

Peter B. Hirtle
Associate Editor
Cornell University

Bonita Wilson
Managing Editor
CNRI

Catherine Rey
Art Director
CNRI

Laurence Lannom
Technical Advisor
CNRI

Carrie Barnett
Administrative Assistant
CNRI


Please send questions or comments to: dlib@cnri.reston.va.us.


D-Lib Magazine is produced by the Corporation for National Research Initiatives (CNRI) and is sponsored by DARPA on behalf of the Digital Libraries Initiative under Grant No. N66001-98-1-8908.

Copyright© 2000 Corporation for National Research Initiatives

Sites
for D-Lib Magazine include:

DOI:10.1045/march2000-contents

Top | Clips and Pointers | Featured Collection
D-Lib Forum