For example, a Rights expression may say that a particular video can by played (i.e., a usage permission) for a maximum of 10 times (i.e., a count constraint) in any semester (i.e., a time constraint) for a $10 fee (i.e., an obligation to pay). Each time the video is played, John, Mary, and Sue (the rights holders) receive a percentage of the fee. Usually, if a right is not explicit in an expression, it means that the right has not been granted. This is a critical assumption made by Rights languages and should be made clear to all Users.
For an example of a rights language, see the Open Digital Rights Language [ODRL]. ODRL lists the many potential terms for permissions, constraints, and obligations as well as the rights holder agreements. As such terms may vary across sectors, rights languages should be modeled to allow the terms to be managed via a Data Dictionary and expressed via the language.
4. Example of DRM Implementation
Second generation DRM software is now providing some of the Architectures described in this article in deployed solutions. A typical example from the E-book sector is the OzAuthors online ebook store [OZAUTHORS]. OzAuthors is a service provided by the Australian Society of Authors in a joint venture with IPR Systems. Their goal is to provide an easy way for Society members (including Authors and Publishers) to provide their content (ebooks) to the market place at low cost and with maximum royalties to content owners.
Figure 5 shows the OzAuthors' interface for the specification of Rights information. In this example, the "Usage Rights and Pricing" allows the content provider to specify "Read" and/or "Print" permissions, pricing, and security options for the ebook. Additionally, a number of pages can be specified as a free preview. The second part of the interface allows the content provider to specify all the rights holders, their roles, and their percentage of the royalty split. Each time the ebook is sold, the rights holders will automatically receive the indicated amount.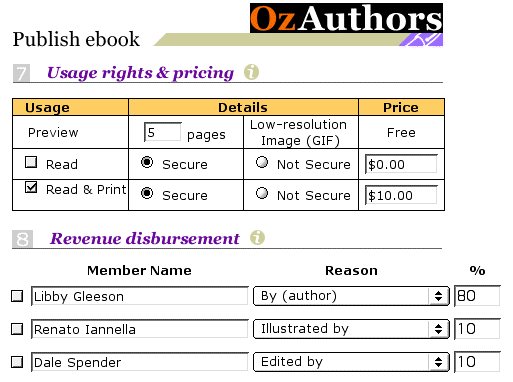 Figure 5 - OzAuthors - Rights Interface
All of this information is encoded in XML using the ODRL rights language. This encoding will enable the exchange of information with other ebook vendors who support the same language semantics, and will set the stage for complete and automatic interoperability.
5. Conclusion
DRM standardization is now occurring in a number of open organizations. The OpenEBook Forum [OEBF] and the MPEG group [MPEG] are leading the charge for the ebook and multimedia sectors. The Internet Engineering Task Force [IETF] has also commenced work on lower level DRM issues, and the World Wide Web Consortium [W3C] held a DRM workshop recently. Their work will be important for the entire DRM sector, and it is also important that all communities be heard during these standardization processes in industry and sector-neutral standards organizations.
Digital Rights Management is emerging as a formidable new challenge, and it is essential for DRM systems to provide interoperable services. Solutions to DRM challenges will enable untold amounts of new content to be made available in safe, open, and trusted environments. Industry and users are now demanding that standards be developed to allow interoperability so as not to force content owners and managers to encode their works in proprietary formats or systems. The Architectures presented in this article are fundamental to that interoperability and openness.
References
[DOI] Digital Object Identifier
<http://www.doi.org>
[EBX] Electronic Book Exchange Working Group
<http://www.ebxwg.org>
[ERICKSON] "Information Objects and Rights Management", John S. Erickson, D-Lib Magazine, April 2001 Volume 7 Number 4
<http://www.dlib.org/dlib/april01/erickson/04erickson.html>
[GUNTER] Models and Languages for Digital Rights, Carl A. Gunter, Stephen T. Weeks, and Andrew Wright. InterTrust Star Lab Technical Report STAR-TR-01-04, March, 2001
<http://www.star-lab.com/tr/star-tr-01-04.pdf>
[HOFMEISTER] Applied Software Architectures. C Hofmeister, R Nord, & D Soni. Addison-Wesley, 2000.
[IETF] IETF Internet DRM Working Group
<http://www.idrm.org/>
[IFLA] Functional Requirements for Bibliographic Records, IFLA Study Group on the Functional Requirements for Bibliographic Records, (Approved September 1997) K . G. Saur München, 1998.
<http://www.ifla.org/VII/s13/frbr/frbr.htm>
[IMS] IMS Learning Resource Meta-data Information Model (Version 1.1)
<http://www.imsproject.org/metadata/mdinfov1p1.pdf>
[INDECS] Interoperability of data in e-commerce systems
<http://www.indecs.org>
[ISTC] ISO International Standard Textual Work Code
<http://www.nlc-bnc.ca/iso/tc46sc9/istc.htm>
[MARC] MARC Code List for Relators
<http://lcweb.loc.gov/marc/relators/re0003r2.html>
[MPEG] ISO/IEC Moving Picture Experts Group
<http://www.cselt.it/mpeg/>
[ODRL] Open Digital Rights Language
<http://odrl.net/>
[OEBF] OpenEBook Forum
<http://www.openebook.org/>
[ONIX] EDItEUR ONIX International Standard
<http://www.editeur.org/onix.html>
[OZAUTHORS] OzAuthors Online Ebook Store
<http://www.ozauthors.com.au/>
[URI] Uniform Resource Identifiers (URI): Generic Syntax, IETF RFC2396
<http://www.ietf.org/rfc/rfc2396.txt>
[VCARD] RFC 2426 vCard Profile
<http://www.ietf.org/rfc/rfc2426.txt>
[W3C] Digital Rights Management Workshop
<http://www.w3.org/2000/12/drm-ws/>
Copyright 2001 Renato Iannella