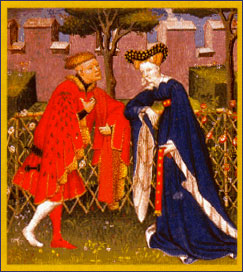 "Courtly Love" in Chaucer's time. Image courtesy of Harvard University. Used with permission.
A collection rich with resources not only literary -- as you would expect from a web site devoted to Geoffrey Chaucer -- but also with historical, linguistic, and artistic materials, the featured collection this month is the Chaucer collection at Harvard University. The collection provides materials for a number of Harvard's English classes, and others are invited to use the collection for educational purposes to learn more about Chaucer, his works, and the times in which he lived.
The collection is composed of a wide range of glossed Middle English texts and translations of analogues relevant to Chaucer's works, as well as selections from relevant works by earlier and later writers, critical articles from a variety of perspectives, graphics, and general information on life in the Middle Ages.
The collection is organized under eight section headings: "Life of Chaucer," "Canterbury Tales," "Other Authors," "Literary Subjects," "Life & Manners," "Science," "Languages & Linguistics," and one simply entitled, "More." Each of the topical sections leads to paths of ever more detailed subjects with pointers to resources where you can immerse yourself into Chaucer's life and times. An alphabetically arranged "Site Index" is also provided. (A few of the links from the Site Index are to restricted access resources, but these are clearly marked.)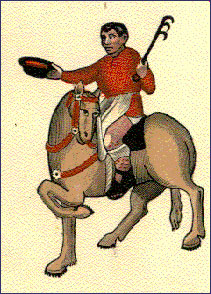 Woodcut of The Cook's Tale, Canterbury Tales, from the Ellesmere Manuscript. Courtesy Harvard University. Used with permission.
The image above left, is from "Courtly Love" a subsection of "Life and Manners." Other topics addressed in the "Life and Manners" section of the Geoffrey Chaucer collection include: "Meals and Manners," "Women in Chaucer," "History," "Tournaments and Court Spectacles," "Scrope-Grosvenor Trial," and "Pilgramages."
Of course, the most well-known of Geoffrey Chaucer's works is his Canterbury Tales. In the section for Canterbury Tales, the listed title for each tale is a hyperlink to background information about that particular tale. For example, clicking on the title "The Cook's Prologue and Tale" will take you to a web page where you will find an excerpt from the tale, a woodcut (see image at right) from the Ellesmere Manuscript -- which is one of the two earliest surviving manuscripts of the Canterbury Tales -- a brief history and description of the tale, and a link to a bibliography of critical and scholarly works specifically about it. In addition, the web page for this tale presents links to external sources that provide further background and information about the "Cook's Tale".
Be sure to visit the tutorial "Sounds, Grammar, Vocabulary of Chaucer's Language", which is part of the section "Languages and Linguistics". There are fifteen sections to this tutorial -- thirteen focusing on Chaucerian pronunciation and two that examine grammar and vocabulary. On the left side of the page, section headings running down the image of the spine of a medieval codex or book take you to audio pronunciation samples of vowels and consonants, sounds, words, and sentences.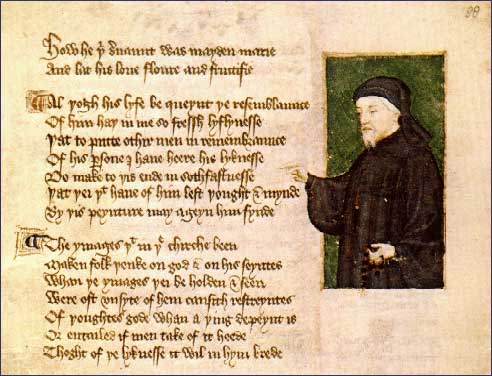 Thomas Hoccleve portrait of Chaucer in Hoccleve's "Regiment of Princes".
Image courtesy of Harvard University. Used with permission.
The collection contains information about many of Geoffrey Chaucer's contemporaries including those who wrote about him. One of these contemporaries was Thomas Hoccleve (born c. 1368, died c. 1450) who knew Chaucer personally. Some of Hoccleve's poems exhibit the influence of Chaucer, and Hoccleve's "Regiment of Princes" (1412) includes several passages in praise of Chaucer as well as the portrait of Chaucer reproduced above.
This description of the collection provides only a sample of the features of Harvard University's Geoffrey Chaucer collection. Explore the collection to experience the breadth and depth of the resources it contains. The Harvard University Geoffrey Chaucer collection is located at http://icg.fas.harvard.edu/~chaucer/index.html.