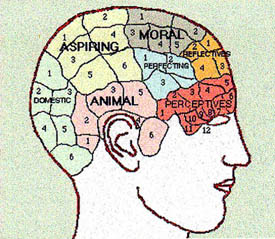 Phrenology Head. Creator: A.N. Fowler, London, Ludgate, England. Copyright National Trust of Australia (Vic) - Old Melbourne Gaol. Used with permission.
D-Lib Magazine's featured web site this month is Australian Museums & Galleries Online (AMOL). AMOL serves as a portal to Australia's cultural heritage, providing a single web site entry point to a large percentage of Australia's museums and galleries, as well as preserving and promoting Australia's cultural identity worldwide. The images on this Featured Collection page and on the Table of Contents to this issue of D-Lib Magazine provide a mere hint of the myriad types of museums and galleries to which AMOL serves as a portal.
The development of AMOL can be traced back to 1993 when Australia's Cultural Ministers Council established the Heritage Collections Committee "to develop and implement a range of programs addressing issues of collection management, access, conservation and preservation, documentation research and access." The Heritage Collection Committee built the National Database Program through which the AMOL Internet site was developed. The AMOL web site was originally hosted and developed by the National Museum of Australia, where AMOL's functionality and scope was greatly increased. Currently, AMOL is a project of the Heritage Collections Council, a joint initiative of the Commonwealth, State and Territory Governments in partnership with the Australian museum sector. The project has been managed by the Powerhouse Museum in Sydney, Australia since 1998. From that year forward, the site has continued to expand; changes in functionality and focus include the development of resources for the tourism and education sectors.
The AMOL web site is made up of four main sections: Museum Craft, The Guide, Open Collections, and Discovernet. The AMOL home page also provides links to current news, a menu bar offering 'QUICKLINKS' to features, and a link to 'stories' from museums and galleries.
Museum Craft is designed as a resource for people who work in the Australian cultural sector. Here, you can subscribe to a variety of subject-based discussion lists hosted by AMOL as well as find information about externally hosted museum discussion lists throughout the world. Museum Craft provides open access to Open Museum Journal, which is Australia's only peer-reviewed online museum journal. Other resources in the Museum Crafts section include an events calendar and information specifically selected for museum management, collection management, exhibition and research. There is also an expanding range of online training resources that relate to different aspects of museum management.
The Guide is a comprehensive and up-to-date source of information about the nation's cultural institutions. Here you can select any of the listed museum and gallery types (including: Professional Organization; Historic Trust; Historic Site; Historical Society; Historic Display; House Museum; Social History Museum; Archive; Library; Art Gallery; Contemporary Art Space; Keeping Place; Cultural Center; Outdoor Museum; Botanic Garden / Herbarium; Zoo / Aquarium; Natural History Museum; Science Museum; Observatory / Planetarium; Science Centre; Maritime Museum; Military Museum; or Transport Museum) in order to locate museums of that type in specific locations.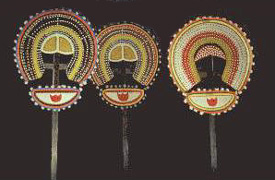 Ilma (string sculptures) Mabo. Collection of the Australian National Maritime Museum.
Creator: Roy Wiggin. Copyright Australian National Maritime Museum.
Reproduced courtesy of the museum.
For example, click on 'Art Galleries' and you will be taken to the web page where two art galleries are listed, each located in the Australian Capital Territory. (You can select other locations at the bottom of this page.) Select one of the listed art galleries by clicking on the gallery name, and you will be provided a description of the gallery's collection along with address, phone number, hours during which the gallery is open, admission information, email address and a live link to the gallery's web site.
However, if you prefer to search for particular objects, rather than for a type of museum, you can search by keyword for that object in the Open Collections section of the AMOL site. The Open Collections section "offers a searchable collection database comprising thousands of objects from museums and galleries across Australia." You can refine the keyword search by limiting your search to a particular collection, object type, object name, object creator, object description, and/or ID code. You can choose to have the results displayed as a list of records or as record summaries and can choose to have results displayed 10, 25, 50 or 100 records per page. The Open Collections section of AMOL also provides a link to other museum research databases, including: the Australian National Shipwrecks Database, Australian Museum Collections, Australian National Botanic Garden, PlantNET, and Informit Online.
The AMOL Discovernet section serves as a learning gateway to museum and galleries for school children. It comprises a database of museum education resources; an interactive game, Make Your Own Exhibition, to introduce children to the curatorial process; online stories from museum collections; and a kids' guide to museums. One unique feature of Discovernet is its Study Booster database of museum education resources. Students can search for resources on a particular subject in a user friendly interface. An additional search interface for teachers is also available. The database uses Australian standard education-specific metadata.
This brief description of the AMOL web site covers only some of the resources available from Australian Museums & Galleries Online. Please visit the AMOL web site to discover the wealth of information available there. Australian Museums & Galleries Online is located at <http://amol.org.au>.