D-Lib Magazine
September 2001
Volume 7 Number 9

ISSN 1082-9873
"Perfessor" Bill Edwards Ragtime on the Web
The featured website this month is "Perfessor" Bill Edwards Ragtime on the Web hosted by ragtime performer and historian Bill Edwards. The title of "Perfessor" was attached to him over 20 years ago, in part because many of the ragtime players of a century past were called "professors" of the piano, but it was often mispronounced. In any case, it is easy to remember "Perfessor" Bill, so the title sticks.
The site is a passion of Edwards' that comes from his desire to share not just the music but as much of the ragtime era as possible with the world. Ragtime was the first truly indigenous popular music in the United States, and the first music that actually spawned entertainment as the viable business enterprise it has become today. But this is not just a collection of MIDI files, which are, incidentally, all live performances of Bill's interpretations of ragtime-era music. The presentation of each page is designed to provide a taste of the era for the site visitor, including restored sheet music covers for most of the pieces, text for each piece that talks about the era, the composer or the composition, and a vast array of resources to aid both amateurs and professionals in expanding their knowledge of this century-old music genre.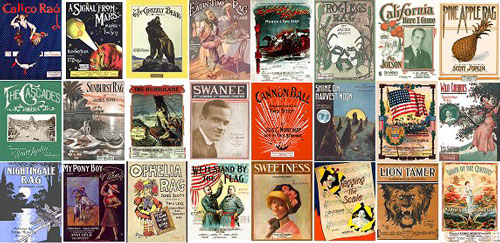 Above is just small sampling of colorful sheet music cover thumbnails found at PerfessorBill.com. The covers are presented in a large size and restored for color clarity with imperfections removed. Courtesy of Bill Edwards. Used with permission.
The presentation of musical Americana echoes "Perfessor" Bill's goal of enlightenment through entertainment. Multiple pages of music are categorized and available through multiple indices, and visitors to his site may also view full-sized covers in a separate window while listening to Bill's unique take on each piece.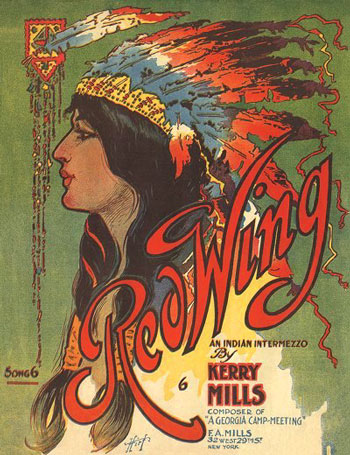 A restored cover for Red Wing. The covers on the site have all been edited to remove tears, writing, smudges, and other artifacts, and the colors restored to their original vibrancy. Courtesy of Bill Edwards. Used with permission.
The "Perfessor's" desire to make the music accessible becomes more evident when one explores his Resources section, which hosts many articles on ragtime music, creating MIDI music, ragtime composers, social and economic aspects of the music, and a number of current sources where both the music and books about it can be obtained. There is also a Nostalgia section with more snippets on people, places and things of the ragtime era, and of course you can browse through his CD Recordings if you wish to hear him play and sing live.
For the best possible experience during your visits (it will take several to get through it all), Bill recommends the highest possible color resolution, and either a 16-bit or better sound card with high-quality MIDI sounds built into it, or a good plug-in MIDI interpreter such as QuickTime or Real Player. The site is updated with new tunes and articles often, and the "Perfessor" is always available to answer mail on the topic at perfessorbill@hotmail.com. All of this music is part of a great American treasure, and it deserves to be heard by new generations as well as fondly remembered by older ones.
You can find Bill on the web at <http://www.perfessorbill.com>.
A biography of Bill can be found at <http://perfessorbill.tripod.com/billbio.htm>
Contributed by:
Bill Edwards
Copyright© 2001 Corporation for National Research Initiatives
---
DOI: 10.1045/september2001-featured.collection