Since 1994, the Center for History and New Media (CHNM) at George Mason University has employed digital media and computer technology to transform the ways that scholars, students, and the general public understand and interpret the past. CHNM combines cutting edge digital media with high quality historical scholarship to promote an inclusive and democratic understanding of the past as well as broad historical literacy. CHNM's work has been recognized with major awards and grants from the American Historical Association, the National Humanities Center, the National Endowment for the Humanities, the Department of Education, and the Sloan, Rockefeller, Gould, Delmas, and Kellogg foundations.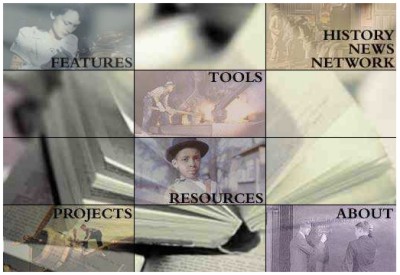 Collage of images from the CHNM web site. Courtesy of the George Mason University Center for History and New Media. Used with permission.
CHNM maintains a wide range of online history projects directed at diverse topics and audiences, making them available at no cost through its website (http://chnm.gmu.edu/). Among these are World History Matters (http://chnm.gmu.edu/worldhistory) and the forthcoming Women in World History, which help teachers and their students locate, analyze, and learn from online primary sources; ECHO: Exploring and Collecting History Online (http://chnm.gmu.edu/echo), which collects, organizes, and preserves digital materials in the recent history of science and technology; and the History News Network (http://chnm.gmu.edu/hnn), a web-based magazine that places current events in historical perspective. CHNM and the American Social History Project/Center for Media and Learning at The Graduate Center of The City University of New York have collaborated on several projects also presented through the CHNM website, including The September 11 Digital Archive (http://911digitalarchive.org), which has collected more than 130,000 digital objects related to the September 11th attacks; Liberty, Equality, Fraternity: Exploring the French Revolution (http://chnm.gmu.edu/revolution), an online archive and teaching resource, and History Matters (http://historymatters.gmu.edu), a resource center and portal for teachers of U.S. history.
CHNM has also developed a number of online databases and other resources for historians and history teachers, including a listing of 1,200 history departments worldwide; a practical guide to Making Online History (forthcoming online and as a book from the University of Pennsylvania Press); a collection of essays on history and new media (http://chnm.gmu.edu/assets/historyessays/essaystoc.html); and a popular set of free digital tools for historians and teachers (http://chnm.gmu.edu/tools), including Poll Builder, Web Scrapbook, Scribe, Survey Builder, and Syllabus Finder. CHNM also provides online history consulting services and hosts several additional history-related websites, including the Journal of Social History, Building the Washington Metro, the Business Plan Archive, and DoHistory.
The Center for History and New Media is at <http://chnm.gmu.edu/>. For additional information please email us at chnm@gmu.edu or contact CHNM's director, Roy Rosenzweig (roy@gmu.edu).
Contributed by
Dr. Roy Rosenzweig
Center for History and New Media
George Mason University