What could be better than spending time in Paris in the autumn? Being in Paris and participating in ISMIR 2002 (the third International Conference on Music Information Retrieval).
Conference sessions were held at the Institut de Recherche et Coordination Acoustique/Musique (IRCAM, the hosting organization) and in the neighboring Centre Pompidou (Georges Pompidou Center) located in the heart of Paris. There was little time during the ISMIR 2002 conference itself to spend sightseeing, however. The conference program was jam-packed—offering tutorials, paper presentations, poster demonstrations, exhibits and three panel sessions.
Social events included a concert at the IRCAM concert hall by musicians using a variety of instruments and electronics, and a delightful evening banquet aboard the Bel Ami, which slowly cruised the Seine and offered glorious nighttime views of Paris, the "city of lights". An opportunity to network with other conference attendees was provided at daily refreshment breaks.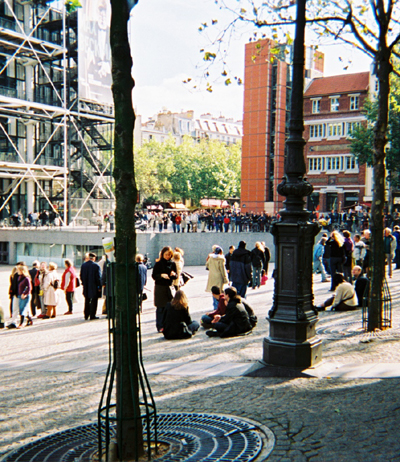 Pompidou Square with the Georges Pompidou Center on the left and IRCAM on the right. Photographed by Bonita Wilson.
The ISMIR series of conferences grew out of a project, the OMRAS (Online Music Recognition and Searching), which was funded by the US National Science Foundation (NSF) under the joint NSF and UK Joint Information Systems Committee (JISC) International Digital Libraries program. Encouraged by the NSF to organize a workshop on music information retrieval, and helped along by a University of Massachusetts proposal that was funded to accomplish this, the first ISMIR Conference took place October 2000 in Plymouth, Massachusetts in the US. The second conference was held at Indiana University in Bloomington, Indiana. (For more information on the evolution of ISMIR conferences, please see The History of ISMIR in this issue of D-Lib.)
At a time when attendance figures at many conferences have been falling due to current economic conditions, it is interesting to note that ISMIR 2002 attendance was nearly double the previous year's attendance. Participants came from twenty-two countries and represented a diversity of organizations and disciplines.
Three pre-conference tutorials were offered on Sunday, 13 October. They were:
Digital Music Representations, Geoffroy Peeters, and Gérard Assayag, IRCAM,
Music Information Retrieval for Audio Signals, George Tzanetakis, Princeton University, and
Modern Methods for Statistical Audio Signal Processing and Characterization, Shlomo Dubnov, Ben Gurion University.
Full descriptions of the three tutorials may be downloaded in either Word or PDF format from the ISMIR 2002 web site.
The conference officially began on Monday, 14 October, with welcoming remarks by Michael Fingerhut, ISMIR 2002 General Chair and Director of the IRCAM Multimedia Library, Bruno Racine, President of the Pompidou Center, and Bernard Stiegler, IRCAM Director. The opening keynote, entitled "Variations on the Theme of Musical Similarity", was given by Douglas Hofstadter, Professor of Cognitive Science, and Director of the Center for Research on Concepts and Cognition, Indiana University.
Other special, invited speakers at ISMIR 2002 included Chris Barlas, Rightscom, Ltd., "Beating Babel - Identification, Metadata and Rights"; Leonardo Chiariglione, Multimedia of Telecom Italia Lab, and ISO MPEG (International Organization for Standardisation, Coding of Moving Pictures and Audio), "Technology and Art -- Putting Things in Context"; Dave Datta, All Media Guide, "Managing Metadata"; Harriette Hemmasi, Indiana University, "Why not MARC?"; and Eric Scheirer, Bose Corporation, "About this Business of Metadata". Abstracts of their talks can be found at <http://ismir2002.ircam.fr/speakers.html>.
Conference paper presentations began immediately following Dr. Hofstadter's keynote on Monday, and paper topics included:
Corpora and databases
Preprocessing and representations
Metadata
Indexing, classification and analysis
Extraction and analysis
Similarity and Recognition
Summarization
Query by Example
Similarity and Recognition
Systems
Usability
Thirty-six full-length papers were presented at the conference, and twenty-two short papers and posters were also presented. Published Proceedings as well as the handouts from the three tutorials are now available for purchase. Ordering instructions may be found at <http://ismir2002.ircam.fr/order-form.pdf>.
The papers covered well the scientific issues in MIR, reporting on projects in progress or recently completed. Scant coverage was devoted to legal aspects, however, and it is to be hoped that such issues will be more adequately addressed at future ISMIR conferences. Nevertheless, because MIR is a discipline that draws from a broad cross-section, there was an opportunity to learn a great deal from the papers presented by authors from different types of organizations and research specialties. This cross-fertilization of ideas is mutually beneficial and was encouraged by Conference Chairman, Michael Fingerhut in his remarks at the conference banquet:
"We will have to take particular care in reflecting and holding the right balance between cutting edge research and innovation, on the one hand, and continuing work on existing paradigms and improving current technology on the other hand. Innovation, the hardest thing to decree, may have better chances to occur if we do indeed strive on multidisciplinarity without losing our identity, encourage it, and improve our communication skills not within our own specialty, but between specialists of different branches, from computer science and digital signal processing to information and library sciences, perception, musicology, law, business and many others...Finally, one should not overlook the multicultural and social aspects of our domain. Music is not just 17th-19th century Western European music".
On the final day of ISMIR 2002, attendees could choose from three panel sessions. (See the "In Brief" column of this issue of D-Lib Magazine for reports on the panels.). The three panels were:
Panel I: Music Information Retrieval Evaluation Frameworks (moderated by Stephen Downie, University of Illinois at Urbana-Champaign)
Panel II: The OMRAS Approach to Music Information Retrieval in the Real World (moderated by Tim Crawford, City University, London)
Panel III: Similarity in Music (moderated by Ludger Hofmann-Engl)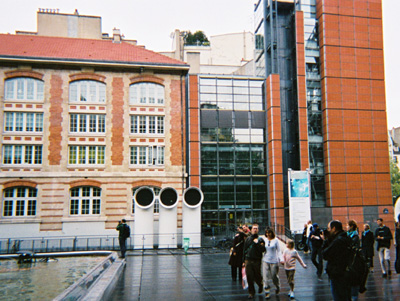 IRCAM, site of the three panels, tutorials, "short paper" sessions and exhibits.
Photographed by Bonita Wilson.
The white papers from Panel I are available online as part of the MIR/MDL Evaluation Project White Paper Collection.
ISMIR 2002 set a high standard for next year's conference, but there is good reason to expect that it will be met. ISMIR 2003 will be jointly hosted by the US Library of Congress and Johns Hopkins University and will be co-chaired by Susan Manus (LoC) and Sayeed Choudhury (JHU).
Copyright 2002 Corporation for National Research Initiatives