D-Lib Magazine
November 2002
Volume 8 Number 11

ISSN 1082-9873
Digital Morphology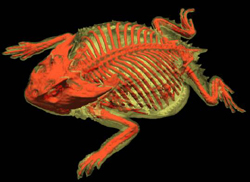 False-colored isosurface image of the Texas horned lizard with the skeleton rendered red and soft tissue rendered yellow and somewhat transparent.

Credit: Courtesy of DigiMorph.Org and The University of Texas at Austin.
Used with permission.
D-Lib Magazine's featured web site this month is Digital Morphology, a National Science Foundation Library at the University of Texas at Austin. A fundamental limitation facing researchers, educators, and students in many broad areas of science is direct access to natural materials and specimens and this is especially true in the field of morphology. Until recently, morphology was the only means of studying the history of Life as it is recorded in the fossil record. Morphology is of special importance in understanding the place of humans in the hierarchy of Life, and it holds particular sway with inquisitive young minds. It is by observing and studying morphology that virtually all students were and are introduced to the splendid array of biological forms with which we share the Earth.
However, few paleontologists will ever have a chance to make a detailed inspection of the world's oldest dinosaur (Herrerasaurus) because only a single complete specimen is known, and it resides in a museum in Argentina. Virtually no herpetologist has ever handled a skeletal specimen of the Bornean earless monitor (Lanthanotus) because only a few exist worldwide. Thousands of students each year learn about Australia's living egg-laying mammal, the duckbilled platypus (Ornithorhynchus), but few will ever hold an anatomical specimen.
A powerful solution to this problem is emerging as several exciting technologies converge to offer unprecedented capability for digitizing external and internal 3D structure of highly complex natural objects, non-destructively and in microscopic detail. Chief among these is high-resolution X-ray computed tomographic (HRCT) scanning, an industrial refinement of conventional medical diagnostic CAT scanning. The Digital Morphology Library at the University of Texas (http://www.digimorph.org) is an archive providing access to HRCT data on over 100 species of plants and animals.

False-colored volume reconstruction
of the rostrum and jaws of the sawfish, Pristis sp.

Credit: Courtesy of DigiMorph.Org and The University of Texas at Austin.
Used with permission.
The Digital Morphology Library is modeled after two great successes in biological informatics: the Visible Human and GenBank. The Visible Human (http://www.nlm.nih.gov/research/visible) has provided a mountainous wealth of anatomical data, promising to reward students and researchers for years to come. The comparative molecular sequence library known as GenBank (http://www.ncbi.nlm.nih.gov/Genbank/) helped fuel the success of the molecular biology revolution by enabling biologists to digitize, archive, and distribute molecular data for many species and individuals. The Digital Morphology Library offers an informatics model that is directly exportable to researchers using confocal microscopy, magnetic resonance imaging, geophysical seismic imaging, and other tomographic imaging technologies. Although digitizing natural materials and objects in 3D remains non-trivial by virtually any method, the image processing techniques for such datasets, once generated, are quite sophisticated and accessible in academic environments. As the Digital Morphology Library and similar models begin to confront these issues, the emergence of sustainable digital libraries built and maintained by their audiences can be expected.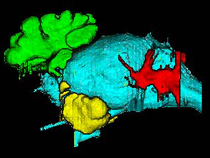 A three dimensional rendering of the major cavities seen in the skull of a Recent lowland tapir (Tapirus terrestris). The brain is blue and other colors represent various sinuses. HRCT image by Matt Colbert.

Courtesy of DigiMorph.Org and The University of Texas at Austin.
Used with permission.
At present, DigiMorph.org has particular strength in samples of the vertebrate skull, which it surveys from fossils to embryos and adults of living species, some occupying even the smallest order of vertebrate size-magnitudes (skull length ~ 1 cm). The Library web site serves a variety of products, including slice-by-slice animations and Java applets of complete data volumes and animated volumetric and 3D surface renderings, plus an introduction (often written by a world expert on that taxon), references, links, and archival museum metadata for each specimen. These visualizations are available on the Web at moderate resolution; full resolution datasets are available on request. "Real" solid object versions of digital datasets are produced by utilizing rapid prototyping technology to "print" copies of the data.
Collaborators are critical to the success of the Digital Library in that they provide access to important specimens, conduct innovative research on those specimens, and expose new audiences to HRCT technology via their teaching courses and presentations at scientific meetings. In return, they receive their desired level of training in the interpretation and processing of HRCT data, and prime datasets to fuel their research. To date the Library has established working relationships with over 75 researchers from 30 of the world's premiere natural history museums and universities.
The Digital Morphology web site is located at <http://www.digimorph.org/>.
Contributed by:
Julian Humphries
University of Texas at Austin
<humphries@mail.utexas.edu>