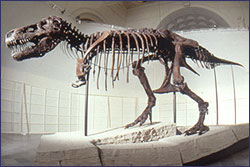 Sue, the largest, most complete, and best preserved T. rex fossil yet discovered.
Copyright The Field Museum. Used with permission.
D-Lib Magazine
November 2001
Volume 7 Number 11

ISSN 1082-9873
Sue at The Field Museum
D-Lib's featured collection this month is the online exhibit "Sue at The Field Museum". 'Sue' is the largest, most complete and best-preserved Tyrannosaurus rex (T. rex) to have been discovered to date. The award winning online exhibition makes learning about Sue possible for those who cannot visit The Field Museum in person or who are unable to attend one of the traveling Sue exhibits.
The Field Museum is located in Chicago, Illinois, and has a long and prestigious history. On September 16, 1893, the museum was incorporated as the Columbian Museum of Chicago. In 1905, the museum's name was changed to the Field Museum of Natural History, both to honor the museum's first major benefactor, Marshall Field, and to better reflect the museum's focus on the natural sciences. The Field Museum's mission is encapsulated in the preamble to the museum's mission statement:
The Field Museum is an educational institution concerned with the diversity and relationships in nature and among cultures. It provides collection-based research and learning for greater public understanding and appreciation of the world in which we live. Its collections, public learning programs, and research are inseparably linked to serve a diverse public of varied ages, backgrounds and knowledge.
"Sue at The Field Museum" fulfills that mission in every sense. At the web site, you will find "background on Sue and her world, fabulous images of Sue's unpacking and preparation, information on current exhibitions and research, and dinosaur-related games, puzzles, and activities for kids."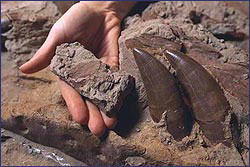 A fossiliezed leaf impression that was found in the rock inside Sue's skull.
Copyright The Field Museum. Used with permission.
You may wonder how "Sue" got her name. It is a fascinating story: "In the summer of 1990 Sue Hendrickson was working as a fossil hunter with a commercial fossil collecting team from the Black Hills Institute at a dig site near Faith, South Dakota. Early on the morning of August 12, the team discovered their truck had a flat tire. While most of the team went into town to get it fixed and to take a short break from the heat, Sue stayed behind to look for fossils."
"She hiked over to some sandstone bluffs that had previously caught her attention. Within minutes she spotted some bone fragments on the ground. She scanned the cliffs above to find out where the fragments had fallen from and saw dinosaur bones - big ones. She climbed up the cliff for a better look at the bones, and saw they were huge. She thought she had found a T. rex, and when the team returned, they confirmed her find and promptly named it 'Sue' in her honor."
But is the dinosaur Sue really a female? Scientists aren't really sure. In fact, they don't know the sex of any of the T. rex specimens that have been found. So far, only twenty-two T. rex specimens have been found, and Sue is both the largest and most complete of those. Comparisons of many more specimens of Sue's quality would need to be made before scientists would have enough information to be able to determine gender. See the Frequently Asked Questions page of the Sue online exhibit for more interesting facts about Sue.
Sue's skeleton, on display in The Field Museum, is the real thing. It is neither a plastic model nor a plaster cast. Additionally, unlike some dinosaur specimens on display in museums, Sue's skeleton is not a composite of bones from different specimens. The Preparation and Mounting section of the Sue web site provides information on how Sue's more than 200 bones were processed and prepared to exhibit. This section is enriched with photographs of the fossil preparators as they worked on Sue's skeleton and describes the process from start to finish. Web site visitors who have Quicktime software can view several movies covering the process of preparing and mounting Sue, including those such as: "What is fossil preparation?", "How did you prepare Sue's bones?", "How can I become a preparator?", "What is a cast?", "Why did you make casts of Sue's bones?", How did you choose a pose for Sue?", How has the process of mounting dinosaurs changed over the years?", and others.
Photographs of Sue and the Field Museum have been collected in an image gallery, and a special section of the Sue online exhibit has been created "Just for Kids". Fun and games in this section include crossword puzzles, word search puzzles, and flip books. (The games require Adobe Acrobat Reader 3.0 to download.)
Two identical Sue exhibitions, sponsored by the McDonald's Corporation, have been traveling to cities across the country as part of McDonald's millennium gift to The Field Museum. The tours kicked off at Boston's Museum of Science on June 21, 2000, and are scheduled to continue through 2003.
But you don't have to wait for one of the traveling exhibits to learn about Sue and enjoy the Sue resources assembled by The Field Museum. Visit the online exhibit "Sue at the Field Museum" at <http://www.fieldmuseum.org/sue/default.html>.
Copyright © 2001 Corporation for National Research Initiatives