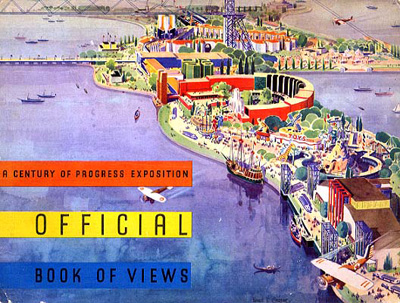 The vibrant colors used to illustrate this viewbook exemplify Joseph Urban's Rainbow City created for the 1933 Chicago Century of Progress Exposition. Courtesy of the University of Maryland Libraries. Used with permission.
In November 2007 University of Maryland Libraries announced its digital collections portal. Digital Collections is a library-wide effort spearheaded by the Office of Digital Collections and Research that highlights the richness of the Libraries' holdings in images, digital films, and full text (we plan on launching our first audio collection in autumn 2008).
Digital Collections was conceived in Fedora, open-source digital repository software developed by the University of Virginia and Cornell University and now being maintained by Fedora Commons. Both the logic and the flexibility of Fedora's architecture provided the ideal vehicle with which to implement the philosophic approach to our conception of a digital repository.
From the outset we were intent on capturing two workflows. The first was the more traditional project-based or thematic research collection. With these collections resources are constructed around a theme, such as The Jim Henson Works or A Treasury of World's Fairs Art and Architecture. The majority of these collections is created via batch uploads of digital objects and metadata.
The second workflow provides the opportunity for special collections curators to upload objects digitized on an object-by-object basis. Patrons are increasingly requesting digital objects rather than photocopies, and we sought to provide a system which would allow them to capture these scans and add them to the permanent repository. This decision coincided with the 150th anniversary of the University of Maryland. In the run up to the anniversary and throughout that year, the University Archivist and her staff received thousands of requests. As each image was digitized it was added to a database (along with metadata) which was then batch uploaded into Digital Collections. In this way the first batch of some 1,300 images documenting a wide variety of topics including student life, athletic events and student athletes, faculty, agricultural pursuits, and campus facilities, formed the collection University Album.
The third leg to our philosophic approach was that we wanted all objects in the system to be cross searchable. This necessitated that at a minimum, a common level of metadata be applied to each object. Moreover, the metadata had to handle the more robust needs of individual collections. After a review of standards, we decided to adapt the University of Virginia's Descriptive Metadata (Descmeta) DTD (Version 1.06). The University of Maryland scheme, UMDM, was designed within a local context, yet allows data to be adaptable to comply with national standards such as Dublin Core, VRA Core, or MODS. There is also an accompanying UMAM (University of Maryland Administrative Metadata) scheme to capture administrative metadata.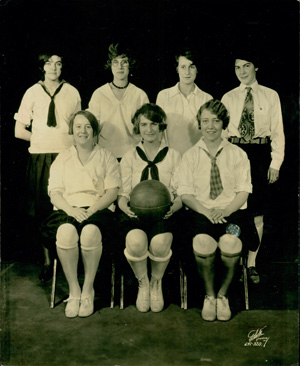 Group photo of the women's basketball team, 1927. Courtesy of the University of Maryland Libraries. Used with permission.
Digital Collections currently delivers full text in both TEI and EAD, digital images (which can be magnified via Zoomify), and digital film delivered via a Helix server.
Particularly Noteworthy Collections Include:
ArchivesUM
ArchivesUM is the interface through which the finding aids to manuscript and archival collections at the University of Maryland Libraries can be discovered. Currently there are over 600 finding aids encoded in EAD online. It also includes abstracts to collections for which complete finding aids are not yet available in electronic format. Access to complete finding aids allows researchers to better plan their research visits or make long-distance information requests, and to gain a clearer understanding of the relationships between collections at the University of Maryland.
The Jim Henson Works
A collection of some 70 digital videos spanning 35 years of Henson's groundbreaking work in television and film. Selections include full length celebrative and documentary programs, feature and experimental films, and episodes from Fraggle Rock, the Jim Henson Shows, the Muppet Shows, and Sesame Street. Due to copyright restrictions, these full-length videos are available for viewing only at public computer stations in the Michelle Smith Performing Arts Library, McKeldin Library, and Hornbake Library.
Prange Digital Children's Book Collection
The Prange Digital Children's Book Collection provides access to children's books published in Japan during the early post-World War II years, 1945-49. Over 50% of the books are unique to the Prange Collection and do not exist elsewhere, not even in Japan. The University of Maryland Libraries and the National Diet Library of Japan (NDL) are working collaboratively to preserve and provide access to the Prange Children's Book Collection in digital format and on color microfilm. Eventually, all 8,000 titles from the Gordon W. Prange Children's Book Collection will be available. Digitization of those volumes is ongoing and new titles will be mounted on a rolling basis. At present only cover images and bibliographic information are available for this collection. Books may be viewed in their entirety from any computer on the University of Maryland campus.
The homepage for the University of Maryland Libraries Digital Collections is <http://www.lib.umd.edu/digital/>.