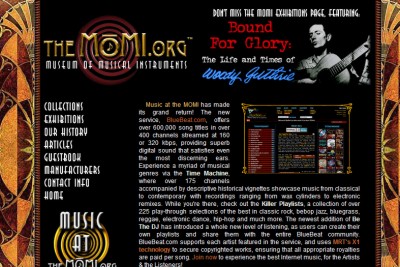 Screen Shot, Museum of Musical Instruments Web Site. Copyright TheMoMI.org.
Used with permission.
The Museum of Musical Instruments, (TheMoMI.org), an extensive online collection of the world's finest fretted instruments, addresses the deep cultural meshing of Art and the Musical Instrument.
The MoMI's special exhibitions are highly graphical and informative. Produced as an online complement to the Smithsonian Institution's extraordinary traveling exhibition, "Bound For Glory: The Life and Times of Woody Guthrie", is the world's first virtual documentary exhibition devoted to Woody Guthrie, one of America's most beloved folk heroes. Another fine visit is the virtual exhibition of "Dangerous Curves: Art of the Guitar", previously on view at the Museum of Fine Arts, Boston (MFA) from November 5, 2000 through February 25, 2001. Dangerous Curves provides an in-depth look at the visual design and evolution of the guitar from Baroque to Modern. "The Guitar is Art: Rhythms of Art and Design in the 20th Century" was produced in collaboration with MoMA, NY, and explores the historical and aesthetic relationship between traditional visual art and the guitar.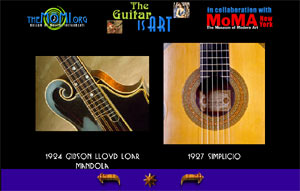 Photo Montage from The Guitar Is Art: Rhythms of Art and Design in the 20th Century. Copyright TheMoMI.org.
Used with permission.
The museum also offers many guitar collections containing stunning close-up images of hundreds of historical guitars, such as the pre-war acoustic giant: the Dreadnaught, and even Mark Twain's 1835 Martin 2½-17", which is currently owned and cherished by the Museum's co-founder Hank Risan. (Note: Twain and his guitar are also featured in his own exhibition: "The Private Life of Mark Twain"). From "Spanish Serenaders" to "Roots of Music in the Jazz Era", The MoMI's detailed collections will have any guitar lover mesmerized.
The MoMI encompasses a multifaceted mixture of history and design expressed through instruments, artists, and their music. Instruments selected for the MoMI include some of the finest examples from the 19th and 20th century, intelligently categorized to create a rich interactive experience that reveals many important aspects of modern culture. These permanent collections provide viewers with fascinating stories of the musical experience. Featured at The MoMI is part of the acclaimed Hank Risan Collection.
In addition to wonderfully detailed photos, you will discover fascinating information within the MoMI Article Archives, a virtual magazine and encyclopedia that provides a broad-reaching perspective of musical instrument history. Be certain not to miss Manufacturers at The MoMI, for sketches of leading 20th century instrument builders. The MoMI welcomes you to explore these magical icons that capture the essence of the modern era.
While you are perusing The MoMI, be sure to check out "Music at The MoMI", a direct link to BlueBeat.com: free online radio of spectacular quality.