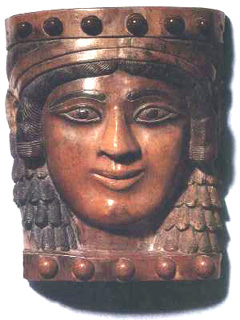 Ivory 'Mona Lisa' of Nimrud
U.S. Department of State, Bureau of Educational and Cultural Affairs. Courtesy of ECAI Iraq. Used with permission.
The area of what is present day Iraq has a long cultural history, one that has had a significant impact on the development of civilization. Quickly understanding the structure and extent of this history used to be difficult. We may have heard of the Persian Empire or the Assyrian Empire, but where and when did they exist? What's the difference between the Assyrian and Akkadian empires? What was the impact of Alexander the Great on the area? What are the world cultural heritage sites in Iraq? Where were Babylon, Nineveh, and Ur? Where are Mosel, Kirkuk, and Erbil? What are their histories?
These and other questions are now easy to explore using the dynamic time and place visualizations of the ECAI Iraq Cultural Atlas.
During the 2003 Iraq War, the Bagdad and Mosul Museums were looted, secret vaults flooded, and archaeological sites damaged by looters with bulldozers. At the April 2003 Electronic Cultural Atlas Initiative (ECAI) conference in Vienna, Austria (in conjunction with the Computer Applications and Quantitative Methods in Archaeology conference), the question was posed: What can we—as academicians, computer scientists, and concerned citizens do to help preserve Iraq's history?" ECAI accepted the task of constructing a website to bring together the available digital cultural heritage resources on Iraq.
The oldest written history in the world is that of Mesopotamia, which occupied the area that is now Iraq. Archaeological evidence of human civilization in the area goes back to about 8000BCE. The ECAI Iraq Cultural Atlas covers a 10,000-year period of history, which includes profiles of 70 major historic sites and 50 empires and eras. Online resources are linked to each profile. These include multi-media materials, historical abstracts, results of online library searches, records of cultural artifacts, and a history of writing.
Organizing the digital resources posed a significant challenge. For example, doing a Google search on Iraq Cultural Heritage brought up over 155,000 entries. A Google search on Babylon yields over 1.5 million items. ECAI Iraq presents over 850 individual links hosted by over 140 institutions all cataloged by time and place. Over 120 online maps, mostly static images, are included. The contributions of each institution can be viewed in an alphabetical index.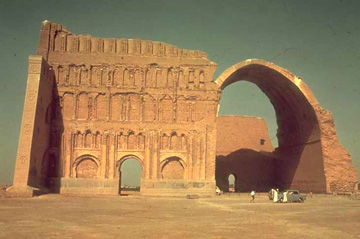 Ctesiphon Arch. "A Sasanian Seal Collection in Context", Electronic Cultural Atlas Initiative. Courtesy of ECAI Iraq. Used with permission.
Dynamic timelines covering approximately 500-year periods link to interactive maps using the TimeMap® Java map browser. A time slider bar can be used to view boundaries of empires as they change over time. Interacting with the maps you can click on a location to zoom in and see more detail for that area. A dynamic map of historic sites displays the distribution of major sites, world heritage sites, and ziggurats (ancient pyramid-shaped temple towers).
Clicking on a site or an empire links to its profile. This displays an organized menu of multimedia digital resources related to the particular location or time period. Historic site profiles include a site plan, a thumbnail image of the site, and a location reference map. Each profile includes links that create dynamic searches of library catalogs through the Z39.50 protocol using the Chesire software. Additional information includes links to abstracts, artifacts, history, maps, and news.
A Java plug-in 1.3 or higher is required to view the dynamic maps. A video player of your choice is required to play videos. A modern browser is recommended for using the dynamic timelines.
The sponsors of the ECAI Iraq project include the Hewlett-Packard Company, the Center for Information Technology Research in the Interest of Society (CITRIS) at the University of California, and International and Area Studies (IAS) at the University of California, Berkeley.
ECAI Iraq is located at http://ecai.org/iraq/.
Contributed by:
Jeanette Zerneke
ECAI Iraq
<jlz@uclink4.berkeley.edu>