May 2000
The Department of Entomology
National Museum of Natural History
Smithsonian Institution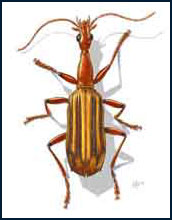 Copyright 2000 Smithsonian Institution. Used with permission.
About the image above:
This illustration of Agra chocha was created by George Venable and is from the the Scientific Illustration archives database at the Department of Entomology web site.
The Smithsonian Institution's Department of Entomology web site, <http://entomology.si.edu>, was designed primarily for researchers in the field of entomology. The site is currently divided into four primary areas: .
General Departmental Information,
Collections Databases,
Other Resources; such as newsletters, and hosted databases, and
Staff Information.
The General Departmental Information area provides staff information and instructions for those who wish to arrange a visit to the Department of Entomology in order to conduct taxonomic research with material housed in the National Entomological Collections. While the Smithsonian Institution is the depository for the National Insect Collection, the responsibility for various parts of the collection are divided between Smithsonian staff, and staff of the Systematic Entomology Laboratory of the Department of Agriculture, who reside at the Museum of Natural History. Consequently, you will find both Smithsonian and USDA references in the staff database as well as some other entomological collaborators.
The Collections Databases area provides links to seventeen searchable databases. These databases follow a similarity in construct so that the user should be able to go from one to another with minimal explanation. The ultimate intention is to provide species level inventories in all collections as they become available.
One of the databases that might be of interest to the casual web surfer is the Scientific Illustration archives: a database and collection of over 3,000 illustrations that have been prepared for entomological research publications through the years. This collection is physically housed in the Museum of Natural History. The collection is currently in the process of being scanned, and as images are prepared, they will be included with the data for each drawing, or series of drawings, in the database.
Photograhed by Smithsonian staff photographer, by Chip Clark.
Copyright Smithsonian Institution. Used with permission.
About the image above:
Costumed participant in BugFest 1999.
This year, BugFest 2000 will take place on May 20th, on the Mall in Washington, D.C.
Like most websites, the Department of Entomology website is a work in progress, and will grow in both content and usefulness as more data is accumulated and new technologies evolve in ways to present information.
Contributed by:
George Venable
Smithsonian Institution