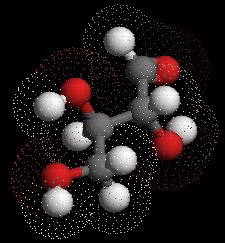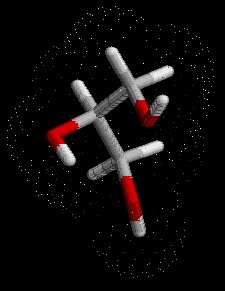 Images Courtesy of Computers in Chemistry at Cabrillo College, Aptos, California.
The molecular images on this page are snapshots of 3 dimensional models from the C4 Molecular Library, a feature of the Computers in Chemistry at Cabrillo College web site. Supported by a grant from the National Science Foundation, the C4 Project provides a tool for molecular visualization in chemical and biological research. With a Windows or Macintosh computer, an Internet connection, Netscape Navigator 3.04 or later, and the plug-in Chime, anyone can view and manipulate models found in the Library's collection of over 400 molecular models. Instructions for obtaining Chime and a tutorial regarding its use may also be found at the C4 web site.
The C4 web site is just one of the many sites for which hyperlinks are provided by this month's featured collection, The Chemist's Art Gallery.
March 1999
Chemist's Art Gallery
In every science discipline there lies a bit of beauty. Scientists have begun modeling problems to be able to help explain the physical and chemical phenomena around us. Though what constitutes an understandable explanation can be disputed, one way scientists model problems is to use computers to generate numbers that can be turned into visual shapes and visual interpretations of processes.
Improved computational power and affordability have together contributed to new ways of interacting with abstract models using computer equipment. Graphics and graphical instruments are now routinely used to ease interaction with computational models and to achieve a comprehensive understanding of embedded physical and chemical processes. Computer graphics or whole computer models can be placed on networks, including the Internet. Users can access these resources directly from their personal computers and, sometimes, can instantly interact with the models to integrate them into their own research, work, or teaching.
The Chemist's Art Gallery was started early in 1994 as an attempt to publicize the work being carried out at the Center for Scientific Computing in Espoo, Finland. It rapidly gathered interested partners from other organizations and institutions around the world who wanted to contribute to a rather general exhibition in chemistry visualized. Very mixed audiences, who hopefully get an idea of the possibilities in visualization, now visit the Chemist's Art Gallery. According to the feedback these visitors to the site provide, the visualizations help most of them to see the simplicity and beauty in chemistry.

Chemist's Art Gallery Description: Copyright© 1999 Leif Laaksonen, Center for Scientific Computing