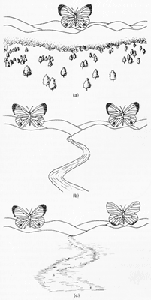 Image illustrating Darwinian evolution of butterflies. Copyright Eric Chaisson. Used with permission.
It is common when one hears the word "evolution" to think of Charles Darwin, whose theories dealt with how living organisms evolved on Earth. This month's featured collection, Cosmic Evolution, takes a much broader view of evolution, focusing not just on life on Earth, but on the evolution of the entire Universe—the cosmos. Darwinism is not ignored, but it becomes just one piece of the story, not the main focus.
The Cosmic Evolution web site is primarily based on the book Universe: An Evolutionary Approach to Astronomy by Eric J. Chaisson and published in 1988 by Prentice Hall (a more advanced version of which was recently published as Cosmic Evolution: The Rise of Complexity in Nature, 2002, Harvard University Press). The material from the book has been recently and significantly updated for presentation on the web site, which is hosted by the Wright Center for Science Education at Tufts University. Chaisson, who also created and maintains the Cosmic Evolution web site, defines cosmic evolution as "the sum total of all the many varied changes in the assembly and composition of radiation, matter, and life throughout the history of the Universe."
The Cosmic Evolution site uses text, images and movies to trace the evolution of the Universe from its origin through seven epochs (Particulate, Galactic, Stellar, Planetary, Chemical, Biological, and Cultural) as well as an eighth, Future Epoch, that includes Chaisson's ideas on the future prospects for human life and for alien life elsewhere in the Universe
In order to view all the movies available on the Cosmic Evolution site, you will need both QuicktimeŽ and RealPlayerŽ software. (Links to free versions for downloading are provided.)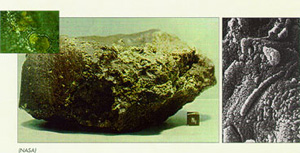 This NASA image is of a meteorite apparently blasted off Mars long ago. Image courtesy of Cosmic Evolution. Used with permission.
Chaisson describes the interdisciplinary approach needed to understand how the cosmos evolved. Most of the sections of the site begin with an introduction, a set of learning goals, and an overview of that section. Each section also ends with a summary followed by lists for further reading and links to other relevant web sites. A link at the bottom of each section leads to educational activities that include questions for discussion or to use as essay topics, true or false quizzes, or problem sets to test how well the user has understood the concepts of that section.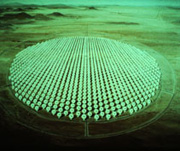 NASA image shows a design for a future gigantic array of a thousand interconnected radio telescopes. Image courtesy of Cosmic Evolution. Used with permission.
Cosmic Evolution resources also include a Glossary and a Search page that enables Boolean searching of site content.
The Cosmic Evolution web site provides a wealth of information about the scientific method and how it is used to help us understand our place in the Universe. As Chaisson says, "Humans now query along the same lines as did the ancients. We ask the same basic questions: Who are we? Where did we come from? What are our origin and our destiny? But now our attempts to answer them are aided by the experimental tools of modern technology. We have astronomical telescopes to improve our vision of the macroscopic Universe of planets, stars, and even larger assemblages called galaxies. We have biological microscopes to aid our view of the microscopic world of cells, atoms, and even smaller entities called particles. We have human-made satellites to gather data unavailable from our vantage point on Earth. And we have sophisticated computers to keep pace with the tremendous increase of new data, theories, and experimental tests."
Cosmic Evolution is located at <http://www.tufts.edu/as/wright_center/cosmic_evolution/>
Bonnie Wilson
Editor
D-Lib Magazine