Photographs of the two images on this page were taken by Jim Angus, and they are copyright protected. Contact Mr. Angus at [email protected] for copyright details. The effigy pot is from the collections of the Natural History Museum of Los Angeles County Foundation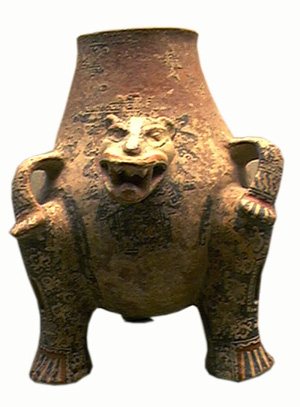 About the image above:
The effigy pot in the photograph above has a feline head combined with a human-like pose of the arms and legs. The pot also has painted jaguar heads on its sides. These heads may have represented a sun-eating god. The mixing of animal and human features is common throughout the Americas.
About the jaguar mask image below: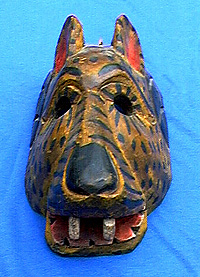 In Central American festivals actors sometimes wear masks, such as this jaguar mask, in celebrations that take place in the rainy season. This custom demonstrates the continued association of the jaguar with rain and fertility.
June 1999
The Natural History Museum of Los Angeles
The web site for the Natural History Museum of Los Angeles County began as a volunteer effort by Jim Angus who managed the museum's DNA research laboratory at the time. He, along with Don Reynolds, a botanist who headed the DNA research Laboratory obtained an NSF grant that provided funding for a 56 kb/sec Internet connection. Later three additional sources of funding -- including GTE, a consortium of museums led by the Carnegie Museum of Natural History, and the Department of Commerce's TIIAP program -- allowed the museum to set up a 10 MB/sec connection to the Internet and provided the funds needed to purchase a UNIX based Sun Microsystems Internet server. In January of 1995, the Natural History Museum moved its web site from USC to its own server.
The museum's mission includes a provision "to advance knowledge and to enable people of all ages, backgrounds, and interests to appreciate their natural and cultural heritage." The web permits the museum to greatly expand it's educational outreach. In addition to on-line presentations, animations and video, the web site also provides downloadable materials for use in the classroom or at home. The Natural History Museum of Los Angeles web site has received considerable attention and awards, but most notably, in 1997, the web site was voted "Best Educational Use" at the first international "Museums and the Web" conference.
Images in this issue of D-Lib Magazine are from an exciting new exhibition, Cats! Wild to Mild, which traces the natural history of the cat from wild, exotic felines to America's number one pet. Highlights of the exhibit include text, images, interactive displays and animation.