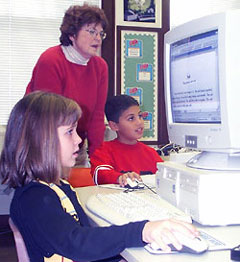 ENC supports teachers' effective use of technology in the classroom. Photograph by Brian Deep, Eisenhower National Clearing House for Mathematics and Science Education (ENC). Courtesy of the ENC. Used with permission.
ENC's mission is to identify effective curriculum resources, create high-quality professional development materials, and disseminate useful information and products to improve K-12 mathematics and science teaching and learning. ENC acquires and catalogs mathematics and science curriculum resources, creating the most comprehensive collection in the nation. ENC provides the best selection of math and science education resources on the Internet and supports teachers' professional development in math, science, and the effective use of technology. Located at The Ohio State University, ENC is funded through a contract with the U.S. Department of Education and was established in 1992. ENC was originally created to collect all types of teaching materials for K-12 math and science educators and to identify and disseminate information about federally funded programs. Our products and services have evolved to include ENC Online, ENC Focus, Digital Dozen, Classroom Calendar, and other services.
National Collection of Mathematics and Science Resources
ENC's collection of mathematics and science curriculum resources is the most comprehensive in the nation. More than 23,000 resources are housed in our national repository, with new items arriving daily. We collect materials from federal and state agencies, commercial publishers, professional organizations, local school districts, and individuals. The collection includes print materials, software and CD-ROMs, kits and manipulatives, along with thousands of Internet sites. This information resides in a searchable database found in the Curriculum Resources area of ENC Online.
Every resource in the ENC collection is cataloged completely and objectively by education and library professionals. With input from teachers about the types of information they want to see in a catalog record, ENC developed a unique and comprehensive system. Each record has more than 20 fields of information, including standard library fields—title, table of contents, author, subjects, publication date, and publisher—as well as fields unique to the needs of educators—grade level, descriptive abstract, evaluations, and resource type.
ENC Focus
ENC Focus is a free weekly web feature and periodic print publication for all those concerned about educational improvement. Each issue of ENC Focus covers an important educational theme, with articles on that topic as well as descriptions of related K-12 mathematics and science materials from ENC's vast collection. Each week ENC Focus highlights a new topic for math and science teachers. In this section you can read teacher-written articles, see what experts in the field are saying, and find professional development and classroom resources.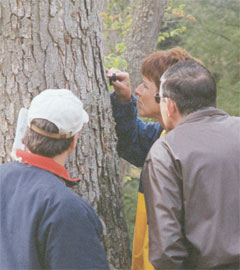 Teachers improve their content knowledge by hands-on exploration of science. Photograph by Brian Deep, Eisenhower National Clearing House for Mathematics and Science Education (ENC). Courtesy of the ENC. Used with permission.
Digital Dozen
Digital Dozen is an award given to 12 selected web sites that are appropriate for K-12 mathematics and science teachers, students, and classrooms. Each month, staff from ENC select 12 high quality mathematics and science web sites to feature on ENC Online. These 12 sites are selected by a team with math, science, education, and web publishing expertise. See this month's Digital Dozen, or visit the Archive.
Classroom Calendar
In ENC's Classroom Calendar, you'll find entries that contain background information, ready-to-go activities, and other suggested curriculum materials related to math and science topics. Use the entries to supplement and enrich your lessons. And use them—or any part of them—on any date that suits your needs. The entries contain direct links to carefully chosen Internet sources and are correlated to national science and mathematics standards. Watch the calendar throughout the year as we continue to add new entries and update others.
Reference Services
ENC Information Services staff are available for educators who need personalized assistance using ENC resources or finding math and science education information. Onsite visitors can examine items from the collection both at the ENC Resource Center at The Ohio State University in Columbus, Ohio, and at the Capital Collection and Demonstration Site at The George Washington University in Washington, DC. The Ask ENC area of the site provides a form to fill out with questions.
Other Digital Library Projects at ENC
Federal Education Digital Resources Library: Outstanding K-12 math and science resources featuring learning activities and professional development materials produced with NSF or U.S. Department of Education funds.
Gender and Science Digital Library: Resources that support equitable teaching and learning of science, technology, engineering and mathematics in formal and informal K-16 learning environments.
Innovation Curriculum Online Network: Resources that support technology and innovation in K-12 classrooms.
The Learning Matrix: Resources that support exemplary teaching in undergraduate math and science courses.
ORC provides links to peer-reviewed instructional resources that have been identified by a panel of Ohio educators as exemplifying best or promising practice. Available resources also include content and professional resources that will support the work of PreK-12 classroom teachers and higher education faculty members. The resources are correlated with Ohio's academic content standards and with applicable national content standards.
The Eisenhower National Clearinghouse for Mathematics and Science Education is located at http://www.enc.org/.
Contributed by:
Kimberly S. Lightle
Eisenhower National Clearinghouse for Mathematics and Science Education
<klightle@enc.org>