July/August 2000
The Castles of Wales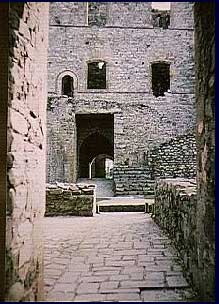 Copyright Jeffrey L. Thomas. Used with permission.
About the image above:
Photograph of the interior of Harlech Castle, Gwynedd, Wales
Created by Jeffrey L. Thomas, the Castles of Wales web site offers virtual visits to over 100 different Welsh castles, containing not only photographs of medieval castles of the country but also a wealth of information about their history and construction. From the grand Chepstow Castle in the southeast to the beautiful Beaumaris Castle on the Isle of Anglesey to the hidden ruins of Ewloe Castle in the north, this site covers a lot of turrets.
Each castle receives a detailed write-up and, often, personal notes about Thomas' own visits. You'll also find a detailed digital tour of Raglan Castle in the south, and Dolwyddelan Castle in Snowdonia, which was of strategic importance to the Welsh princes of the 13th Century. Both virtual tours includes a detailed history of the building, aerial views, photographs from its keep, and a drawing of what the castle looked like 700 years ago.
There are also numerous articles including historical overviews of Norman, Welsh, and Edwardian castles and castle builders, as well as pieces about motte and bailey castles and castle siege-craft (so that you'll understand why so many of them are in ruin today).
Copyright Jeffrey L. Thomas. Used with permission.
About the image above:
The image above is a composite of two photographs of Carreg Cennen Castle in Wales
This award winning educational site has been commended by organizations on both sides of the Atlantic, including the BBC Wales and Britannica Online. Thorough, informative, and colorful, the Castles of Wales is indisputably the best site about castles on the Net.
The Castles of Wales web site:
<http://www.castlewales.com/home.html>
The Castles Studies Group web site:
<http://www.castlewales.com/csg.html>
Wales on the web:
<http://www.castlewales.com/walesweb.html>
Contributed by:
Jeffrey L. Thomas
The Castle of Wales
<[email protected]>
Copyright (c) 2000 Jeffrey L. Thomas