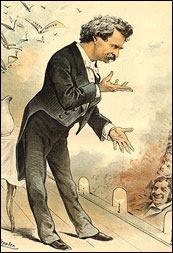 Illustration of Mark Twain on stage. Copyright Stephen Railton and the University of Virginia. Used with permission.
By Bonita Wilson
Corporation for National Research Initiatives
Several weeks ago, I enjoyed a biography of Samuel Clemens, a.k.a. "Mark Twain", that was broadcast on one of the local public television stations. It brought back memories of my first exposure to The Adventures of Tom Sawyer and Adventures of Huckleberry Finn, which my fourth grade teacher, Miss Sleeper, read aloud to us, one chapter each day. How I looked forward to each installment! Thus, I was delighted last month to learn of the resource-rich and well-designed online collection, Mark Twain in His Times, which is D-Lib Magazine's featured collection this month.
The web site was created by Stephen Railton, Department of English, University of Virginia, who wanted to provide wider access to the "particular and often rare resources of the Barrett Collection of American Literature at the University of Virginia Library." As Railton explains, "Mark Twain's works still speak directly to modern readers, but the larger story of his career—as best-selling writer, live performer, celebrity and American icon —can be more fully appreciated when those works are located in the context of his times."
Originally, Dr. Railton mainly focused on digitizing and organizing primary material about Clemens and making it available on the Web, but feedback from his students and others brought the realization that the Internet offers advantages for "re-presenting" those materials in a more interactive way. Consequently, his goal has expanded to include not only building a permanent electronic archive of primary materials but also an evolving, interactive, virtual exhibition. Dr. Railton describes the collection as an archive that contains a growing number of searchable primary texts including: Mark Twain's works, contemporary reviews, advertisements, and so on, and as an ongoing experiment using the capabilities of computers to help people explore the meaning of a writer's achievement. The archive contains several different kinds of interactive displays:
"Since Net users are looking for graphic images, what parts of the story can pictures tell? Can the issue of Huck Finn and racism be articulated by the various American illustrations of Jim?
The display of Mark Twain's various signatures also attempts visually to articulate a specific interpretive issue—Clemens, Twain and identity—but in addition tries to give users more interactive control.
Translating Innocents Abroad into a hypertext map explores what is gained and lost when a narrative text is reconceptualized in graphic (and geographic) terms that allow readers to move into and out of it in non-linear ways."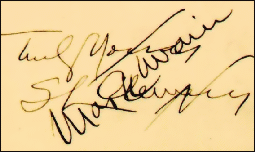 Image of a signature showing both the author's real name, Samuel L. Clemens, and his pen name, Mark Twain. Copyright Stephen Railton and the University of Virginia. Used with permission.
To help visitors to the collection navigate more easily and effectively, guidelines are provided under the title Piloting Lessons. As explained on that page, the site is organized into nine main sections:
"Three display various aspects of the career of Mark Twain in his time. "Samuel Clemens as Mark Twain" focuses on the issues of his identity and popular image. "Marketing Twain" focuses on the particular ways in which his texts were published, promoted and sold. "Mark Twain On Stage" focuses on his career as a live performer, and the issue of performance in his work. The other sections are each organized around specific major texts, from Innocents Abroad to Pudd'nhead Wilson."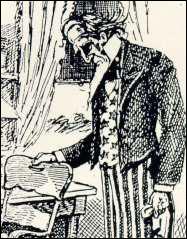 Obituary cartoon that appeared at Mark Twain's death. Copyright Stephen Railton and the University of Virginia. Used with permission.
Each of the first three sections leads to a wealth of material about Samuel L. Clemens that helps put his works in context with his times. These sections provide analysis and critical review of Clemens as one of the great American authors, but it was not only as an author that Clemens earned his place in U.S. cultural history. Within the twelve-year period 1897 - 1909, Clemens appeared before "perhaps over a million people in lyceum halls and banquet rooms, in small American towns and big cities...." He was so famous in the US by the time of his death that "Many newspapers commissioned their staff cartoonists to create drawings to give graphic significance to the occasion...These drawings provide another way to see how 'Mark Twain's' legacy was summed up." (Twelve of the obituary cartoons are collected in a portfolio at the web site.)
The multi-faceted and multimedia collection, Mark Twain in His Times is one of those collections that can be much better appreciated through exploration than by reading a description of the many features it offers. Therefore, I encourage you to take time to visit Mark Twain in His Times. The site is located at <http://etext.lib.virginia.edu/railton/>. Enjoy!