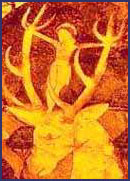 Photograph: Rhey Cedron, tapestry detail, Canterbury cathedral, England. Copyright 2002 Earthlore Explorations. Used with permission.
January can be a very serious month. Just look over the shoulder of someone writing his or her resolutions for self-improvement and self-advancement. The collection featured this month is a departure from all that hard work and self-denial. It is Earthlore Explorations, a site devoted to cultural legacies including history, myth, poetry, and more. As its name implies, this is a site made for enjoyable wanderings.
Earthlore Explorations has been online since 1995, and it is currently undergoing an extensive redesign and renovation. Enhancements are being made throughout the site, so while some links at the site may lead to temporary replacement pages, they will direct you to available content. If you wish, you may sign up to receive an email notification when the upgrade is complete. In fact, scattered throughout the site there are several other special interest lists to which you may subscribe for free email newsletters on particular topics.
Currently, resources at the Earthlore site are organized under four major sections: "Gothic Dreams", "Ireland", "The Mystery of Lost and Forgotten Histories", and "The Lore of Astrology". (Other sections scheduled to be online in the near future include those on the subjects of symbolism, music, literature, and an independent resource on Arthurian lore.)
"Gothic Dreams" contains photographs and artworks depicting the architecture, sculpture, arts, and crafts of the Medieval period. One of the many instructive resources in this section is a set of "Gothic Architecture Glossaries". Definitions of terms help you learn about various aspects of gothic cathedrals and churches including: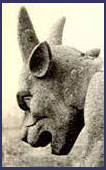 Photograph: Rhey Cedron, Notre Dame de Paris. Copyright 2002 Earthlore Explorations. Used with permission.
The section devoted to Ireland provides a richly intertwined mixture of history and myth. Three poems by W. B. Yeats, a love story in the form of a 'hearth tale', and historic overviews from 7000 BC forward are just some of the resources about Ireland, past and present, to be found here. Additional countries will be featured with their own sections in the coming months, beginning with Brazil, China and Egypt.
The introduction to "The Mystery of Lost and Forgotten Histories" asks "Is there any relevance today for verification of a historical King Arthur hidden in the mists of legend? Are there lessons in studying the decline of ancient Peruvian civilization?" This section of the Earthlore web site provides resources that support you in developing your own conclusions to questions such as these.
The introduction to the section "The Lore of Astrology " reads:
"An exploration through the history and evolution of the world's astrological sciences; the worldwide studies of planetary forces, which have aimed to secure answers about who we are and what meaning our life has in the unfolding of creation."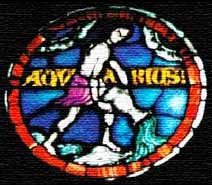 Photograph: Rhey Cedron, Rose window detail, Lausanne cathedral, Switzerland.
Copyright 2002 Earthlore Explorations.
Used with permission.
Even if you don't put any credence in astrology, from ancient times its influence has been revealed in many aspects of cultural history, art, and religion. This is a good example of how Earthlore presents content on cultural history, more as a journey for inspired minds than as a destination or a settled conclusion. In the words of the site's content director: "A subject like world culture requires a medium with depth and texture to convey its great expanse in a fair manner. The Internet offers this potential while at the same time supporting adventurous, intuitive exploration on the viewer's side."
The origins of Earthlore pre-date its publication on the Web. The original ideas and formats were developed over many years by New York based photographer Rhey Cedron. In time a supportive group of individuals were brought together because of their various talents and long term interest in areas of cultural history. The primary intention of Earthlore is the development of resources which support open-minded study of culture within a context of contemporary relevance. Although content is not confined to digital media, it was selected as a central component because of its great potential to enhance the individual learning experience.
For an antidote to the gray days of January, visit Earthlore Explorations at <http://www.elore.com/index.htm> and be sure to revisit it again to benefit from the enhancements to be added throughout the next few weeks and months.