The Professional Web-zine
and Parallel Publishing
Ariadne: the Web Version
John Kirriemuir
Ariadne Web Editor
UKOLN (UK Office for Library and Information Networking),
University of Bath, Bath
Somerset, UK
[email protected]
D-Lib Magazine, February 1997
ISSN 1082-9873

Ariadne: What, Why, and Who
Ariadne is a project funded under the Electronic Libraries Programme (eLib), with the main purpose of providing a regular, parallel, Web [1] and print [2] magazine for the UK Higher Education Library and Information Science communities.
The Electronic Libraries Programme: Cultural Change
In 1993, an investigation into how to deal with the pressures on library resources caused by the rapid expansion of student numbers and the world-wide explosion in academic knowledge and information was undertaken by the Joint Funding Council's Libraries Review Group, chaired by Sir Brian Follett; This investigation resulted in the Follett Report [3], from which one of the key conclusions was:
"The exploitation of IT is essential to create the effective library service of the future".
As a consequence, the Higher Education Funding Bodies in the UK invited proposals for projects which would "transform the use and storage of knowledge in higher education institutions". The original 30 projects, and the 30 or so that would be funded later, would form the Electronic Libraries Programme [4] (otherwise known as eLib); this programme would be managed by the Joint Information Systems Committee (JISC) [5] on behalf of the funding bodies.
The driving philosophy behind eLib is more holistic than simply providing a set of tools and resources; it is one of instilling a "cultural change" in UK Higher Education (HE), making attitudes, confidence and knowledge in the use of network-based technologies more positive and widespread. Projects are encouraged to publicise their work throughout relevant parts of HE, and to work in an open, consortium-based manner where possible. The large number of Universities in the UK are involved in at least one project; most of these are involved with several.
Ariadne: Purpose and Goals
The overall goal of Ariadne is to disseminate information about, and raise awareness of, electronic library developments, resources and services, to the HE and academic library communities.
Ariadne consists of a two-pronged approach to information dissemination:
A print magazine is produced every two months, each issue consisting of 12 pages. Every University library and Computer Centre, as well as other eLib projects, some UK centres of electronic library research, and key University personnel such as Vice Chancellors would receive copies.
A Web-based parallel magazine, containing the same material as in the print version, but using the facilities of the Web for enhanced accessibility, is made available at the same time as the equivalent print issue. The Web version also contains a wider range of material, to exploit the lack of space limitations and the more varied audience who were able to read it.
The Web version is not the only freely available regular publication for the Library, Information Science and Digital / Electronic libraries communities. In the UK, for example, there is the Newsletter of resources at Heriot-Watt [6], the US, however, is the home of most of the rest, including D-lib magazine [7], PACS review [8], the Journal of Academic Media Librarianship [9], LIBRES [10], the Katherine Sharp Review [11] and several others. Some of these are peer-reviewed, some are not. All have their own individual target audiences, styles and scope of content. We originally hoped that Ariadne would not overlap significantly with any of these publications; instead, we would seek to do collaborative work and cross-publicity wherever possible.
Ariadne's overall goal originally broke down into the following roles:
disseminating relevant news of JISC-funded information services and eLib developments to the UK HE community, and especially to those people working within library and computer centres. A movement is underway to converge such services, increasingly resulting in separate library/computing facilities being replaced by one "Information Resource Centre" in each University; the people in these centres form Ariadne's core audience.
informing the target audience of a wide range of up to date and relevant concepts, resources and technologies, in the fields of electronic library research, networking and the use of IT in HE and libraries. This would be through resource and service reviews, interviews with key library or information science people, training tips, commissioned articles and regular columnists.
impartiality. Ariadne should not shy away from controversial issues, nor be afraid to commission material that criticises itself, its funding programme or other LIS services or resources. Examples of such material are the review of BUBL [12], the right of reply taken up by the BUBL service [13], and John Lindsay's article [14] on networking in the UK.
liveliness. Where space permits, more offbeat material, such as a cartoon [15] or an irreverent review of a conference trip [16], have been featured to lighten the tone of the publication. Fewer space constraints in the Web version has meant that regular features such as a popular caption competition [17] (which has the added bonus of making people "interact" with Ariadne when they submit entries) have been developed.
"newsy-ness". Ariadne is not a peer-reviewed journal. Instead, its nature sits somewhere between a newsletter and a magazine, with a much shorter article turn-around time than a journal. For example, most of the articles in the Web version are processed and made public within 2 or 3 weeks of the editor receiving such material.
As the project has developed, so the audience has grown to be more international, with many people from the LIS communities of other countries now reading the Web version. With this in mind, an additional role was added:
the web version should highlight the use of JISC-funded services, networks and network-based technologies, especially those in HE and academic libraries, to relevant organisations, academics, libraries and locations in the world. As well as promoting developments in UK Electronic Library research and usage, it is hoped that such dissemination will result in more international collaboration with eLib projects and other network services and resources.
The Ariadne Team: Opposite Corners, Common Goals
Ariadne is produced in two institutions:
UKOLN [18] - the UK Office for Library and Information Networking - this is based in the University of Bath, in the south west area of England. The Web version is produced, mounted and maintained at this location. The original staffing of a Web Editor and Co-director has been recently bolstered by a proof reader/interviewer, and a technical advisor who identifies potential Web-based technologies to incorporate into the production or interface of Ariadne.
Information Services [19], based in the University of Abertay, Dundee, in the north east area of Scotland. The Print version is produced and distributed from this location. The original staffing of a Print Editor and Co-director/Managing Editor has been recently bolstered by an administrative assistant.
In addition to the team, the project has an active editorial board of 16 people, who are all based in strategic positions, institutions, or services in the UK Library and Information Science field. The roles of the editorial board are to commission or write articles, interviews and reviews, to publicise Ariadne, and comment on all matters of content, style and accessibility to the team. The members of the board have been very active and enthusiastic in all of these roles, despite having their own full-time jobs to contend with. For example, Emma Worsfold recently observed, through the evening and night, a parallel Web version of an issue of the Daily Telegraph [20] being produced for a future article in both versions of Ariadne.
None of the staff who work on Ariadne do so on a full-time basis; this, combined with two groups based at diametrically opposed corners of the country, makes physically meeting logistically and financially difficult. Our usual approach is to meet at conferences that most or all of us attend for some other reason, though we have already had one (successful) experiment with video conferencing. Because of the large costs involved, it has only been possible to have one combined meeting of both camps and the editorial board to date; this produced many suggestions regarding content and style which are being implemented in both the Print and Web versions. We would hope, when the Mbone becomes easier to use, more reliable and more widespread, to have regular editorial board meetings using this, or some other video conferencing facility.
Web Design: Access, Navigation, and Pretty Colours
When the Web version of Ariadne was designed, with issue 1 in mind, the main principle was simplicity. There were some 15 articles in the issue, so a single level contents page was constructed. Graphics were kept as simple as possible, as we were unsure of how much traffic Ariadne would generate; simple icons and graphics, using the eLib colours of blues and white, were constructed using PaintShop Pro.
By the time issue 4 was being constructed, the growth in size of the Web version meant that reading the contents page, as indicated by feedback, was time-consuming. In addition, links to non-article sections, such as "About Ariadne" or the news section, were not clear. A redesign was due.
Each category of articles in Ariadne was given its own sub-menu. From an individual article, the reader could jump to either the sub-menu, the main menu, or one of the non-article sections via a set of icons to be found at the top and bottom of the article. If the article was in a regular column, additional icons allowed the reader to move between the column in different issues, without having to go through any content or issue menu's. A test run of the new format indicated that the navigation was improved, but some people still preferred having one contents page, no matter how long; therefore, both the sub- menu and the one content page system were combined to form the current menu-article structure.
The graphics were also redesigned to look more attractive, while at the same time not being too large as to significantly slow down Web page access. Rather than use pictorial icons, which run the risk of being unclear or ambiguous, icons overlaid with textual descriptions were designed; see Figure 1.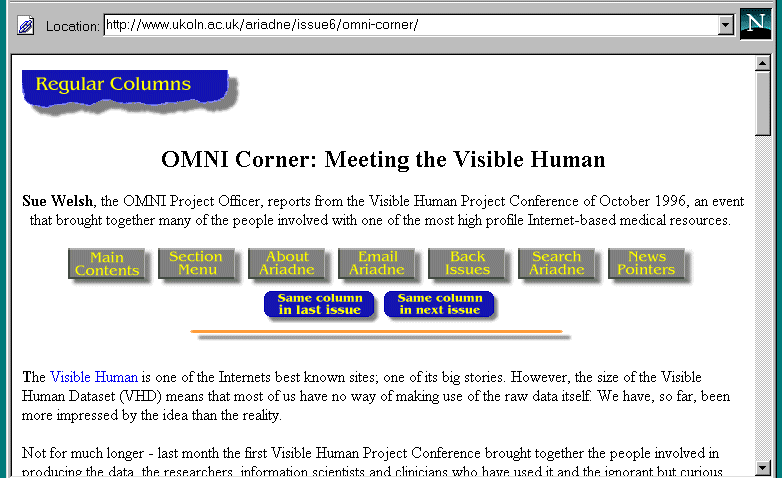 Figure 1. The top of an article, showing the navigation bar of icons
Individual articles and menus are marked up in a deliberately simple form of HTML for two reasons:
to make accessibility possible to as wide a variety of browsers (and their differing versions) as possible
to make it easier for future technologies, such as style sheets, to be used in page (re)design and construction
Several other changes have been made to the design of the Web version. The two most common negative comments that have been received about articles in this version is that:
it is unclear how to respond to an article
if an article is printed off, it loses some value in that hyperlinks on a printout are useless
From issue 7, a large number of the discussion-oriented articles have a response form clearly attached, where people could either send email to the authors of the article directly, or send a comment to be published as an article response. In addition, URLs are now explicitly referenced in articles. As a point of principle on the equality of network and paper based material, references to all kinds of resources (eg. Web, journal, book) are included in the same reference section.
From issue 1, Ariadne has contained a search facility [21]; however several problems have recently become apparent with said facility:
many readers searched Ariadne in an odd way; some people entered very specific phrase-based queries, which nearly always resulted in no hits. Some readers searched on very vague terms e.g. "Web", while others searched on irrelevant terms e.g. "backrubs". Some notes on effective searching have recently been added to the search page.
searching is relatively slow. This is mainly due to the index and search engine used, which is having difficulty coping with the recent growth in size of Ariadne. Evaluation of potential replacement search engines is underway; in the meantime, an alternative is offered, in that people can search Index Morganagus through Ariadne; this is an index of 36 LIS resources, including a recent index of Ariadne, which can be searched through one form.
As new developments with network-based deliverables emerge, we evaluate the more promising examples to see if they can enhance navigation or general accessibility, for the Ariadne reader. For example, we have experimented with a Javascript pop-up window to add an extra method of navigation around a single issue [22] of Ariadne.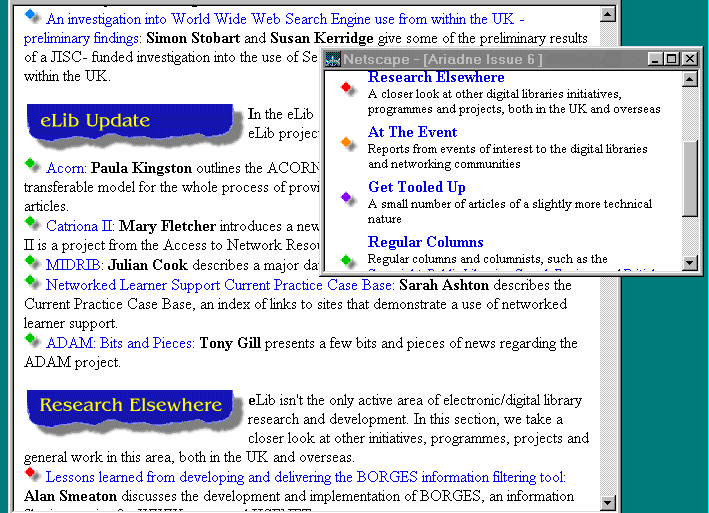 Figure 2. Example of a Javascript pop-up menu, used to add navigational facilities
In addition, offering articles, or the whole issue, in a format different from HTML, needs to be investigated to see if any of our target audience are better served by one of these formats. The increasing use of PDF as an electronic journal delivery format [23] needs to be monitored, though with issues of the (smaller) print version of Ariadne being around a Megabyte in size in PDF format, there are obvious network implications.
The main criteria of any such access-enabling technology is that it should be relatively easy to use, add significantly to accessibility or navigation, be inexpensive, and should not add significantly to the time taken to produce an issue.
Content
Content for the Web version of Ariadne is obtained from the following sources:
all of the material in each parallel Print issue is included in the Web version. Occasionally, some of these articles are in an extended format, which are indicated in their Web version. This material consists largely of interviews, discussion articles and progress reports from three or four eLib projects.
material produced by the editorial board - most of this goes in both the print and Web versions.
unsolicited material - a large amount of material, or ideas for material, is emailed to the editor; for example, there were 109 ideas, or submissions of material, in the two months before issue 5. However, most of this is undesirable, as it is often irrelevant material, thinly veiled adverts for products, or from people describing very niche research which is not of interest to nearly all of the target audience. Although a substantial amount of time is spent sifting through such material and ideas to extract potential material, rarely do more than three or four of these "over the transom" contributions make it into an issue
regular columns --- nine people now write columns for every issue of the Web version. These columnists cover a diverse array of issues, including public library networking, electronic copyright, HTML development and accessibility for the disabled, and new search engine developments. Some of the articles from these regular contributors have appeared in other publications at later dates. Regular columns have the advantage that they give Ariadne some content stability; for example, many people interested in medical informatics read the OMNI corner [24] column in every issue.
articles commissioned by the Web editor, who periodically looks at a range of sources for relevant material. These sources include deliverables produced by other eLib projects, other IT or network based programmes or projects in UK HE, high profile overseas Digital Library programmes, announcements on key lists of new services or resources, and an occasional rummage through lists of pointers to digital libraries resources and initiatives, such as the excellent IFLA Digital Libraries resources and projects [25] list.
In addition to the main articles, there are several other areas within the Web version:
news - a small news section is maintained, through which news of eLib and other electronic library developments are announced every week or fortnight.
checkout - this is a section of reviews of books and Web sites, most of which are LIS related. Every print issue contains two reviews (with more from issue 8); in addition, extra reviews that either were too late for press, or were commissioned by the editor, are included in the Web version of Ariadne.
about Ariadne - here, details of the background to Ariadne, how to read it or submit article ideas, and who is involved in the project are displayed.
back issues - summary details of the main articles in each of the back issues are available on one page.
These areas are due for a review and a redevelopment, and so may be different in style or content in a few months time. One problem we have with any redevelopment is the permanence of URL's; as various Ariadne URL's have been mentioned in the print media, and some people will have bookmarked pages they wish to read at a future date, we have to be careful when redeveloping the structure of the Web pages.
Production Mechanisms
When the first few issues of Ariadne were produced, the number of articles meant that time could be taken over article proof-reading, and negotiating with the authors over changes. However, from issue 4 onwards, with the increase in size of the Web version, the time required to produce an issue has become an acute problem.
Despite not being a refereed journal, there still needs to be some element of quality control, in terms of the content of articles, how each article is constructed and how it is presented to the reader. How the various elements that constitute an issue, such as articles, sub-menu's, multimedia files and navigational controls, are checked and linked together, is also a quality control issue.
Articles that are not in the equivalent print version (and therefore are already proof-read), from regular (trusted) columnists, or produced in-house (e.g. the caption competition) are read to check for potential copyright, slander, technical accuracy and irrelevance. In some cases, articles are sent to editorial board members who specialise in the relevant subject area for their comments; some articles are returned for partial rewrites, or are rejected outright (though we do say to the author, in fairness, why they are rejected).
When an article is deemed to be acceptable, it is put into an appropriate template file. The article then enters a "proof dusting" process, which has been updated for the production run of the next issue. Proof dusting will now be a multi-stage process of spell checking (twice, for errors that creep in during production), HTML checking, and making essential grammar alterations. In addition, the "proof duster", having read the article, constructs a one-line description of the article which is used as the article leader, and the link to the article from the main contents page and section menu. The editor finishes the process by adding and checking any references.
Why "proof dusting"? One of the attractions emphasised to potential authors of material for Ariadne is that their work will be only lightly edited (with, of course, checks make for spelling, technical accuracy, grammar, copyright infringement, slander, and relevance). This is especially important in reviews, or discussion articles, where very minor changes in words or structure can potentially have a large effect on the overall tone of the article, and may not be to the author's liking. In addition, intense proof reading would result, with time limitations, in articles either having to be submitted several months before publication, thus losing their immediacy and "news worthiness", or for a drastic reduction in the number of articles accepted for publication; neither of these scenario's is compatible with the aims of Ariadne.
As with evaluating technologies for their use in improving accessibility or navigation to the reader, so we have to evaluate technologies that help improve the quality and efficiency of issue production. For example, we are currently evaluating "Bobby" [26]. This is a validation system with a difference; the service, given a URL, checks the associated Web page to see how compatible it is with Web browsers used by the visually impaired. In addition, the page can be checked for compatibility against a wide range of versions of popular browsers. The downside of this service is that it is painfully slow to use, probably because of it's location rather than any problems with the service itself. To use such a service on all the articles in an issue of Ariadne would be very time consuming, though we are considering obtaining the source code. Ideally, such a service should be mirrored in the UK for easier evaluation of its usefulness.
Publicity and Feedback
Publicity of Ariadne is a vital task, more so when one of the criteria is for Ariadne to help effect "cultural change" in Higher Education.
Publicising the Web version
The Web version of Ariadne is publicised in several ways, including:
through the parallel print version - this contains a section indicating some of the articles to be found in the parallel Web version of the same issue. In addition, the URL of Ariadne is emblazoned on top of the front cover of every issue. Due to the limitations on space, the Print version does not carry URLs for any of the articles or reviews, so people have to visit the Web version for these, as well as for any extended-length or Web-only articles.
mailing lists - issues and major updates are advertised on three types of mailing lists. Through the first two of these we hope to reach a substantial number of librarians in UK Higher Education and libraries; the third type allows us to promote Ariadne and JISC-funded services to a more global audience, and hopefully to alert potential overseas partners and collaborators to ongoing eLib work.
large traffic-member library lists, such as lis-link [27], which is the main debating forum for academic librarians in the UK, lis-elib [28] which is a debating forum and announcement board for people interested in, or affected by, eLib, and the more global Web4Lib [29] list for librarians interested in Web-related issues.
speciality lists, dealing with e.g. public library networking, or electronic copyright issues - individual articles by regular contributors are publicised through several of these lists, partially in the hope that some of the first-time readers will explore other parts of Ariadne.
national library mailing lists - using the Liszt [30] index, about 20 mailing lists were discovered relating to electronic library developments in other countries or continents. Discreet adverts for Ariadne are occasionally put on these lists; surges in accesses from the regions covered by the lists are often apparent.
internal mailing lists within library schools - every few issues, a posting is sent to key people within various UK library schools, which is forwarded to students on internal mailing lists. I personally see this is as a crucial area where awareness of eLib, digital library developments, network services and cultural changes needs to be raised, as these students will be the ones using and teaching these services and practises inside academic libraries in the future.
conference announcements - conferences and workshops of a Library and Information Science nature are not only a fertile environment to publicise Ariadne, but also a good source of material for future articles and contributors. Speakers at events are encouraged to use Ariadne as an example in their presentations, where appropriate.
editorial board - The members of the editorial board promote Ariadne through their own institutions, jobs and work. As many of them have key strategic roles within the Library and Information Science community, for example editing other LIS publications or organising/speaking at relevant conferences, the board are a valuable means of publicising Ariadne.
Conscious feedback -- What we see and hear
A lot of feedback is received about Ariadne in general, either through email, or verbally at events. Unfortunately, rather less feedback is received about individual articles, despite easy-to-use feedback forms being included in several of the articles from issue 7 onwards. Feedback tends to come from a core group of enthusiastic members of the HE library community, and is mainly concerned with the overall content of Ariadne (usually, though not always, such feedback is positive). A survey was also carried out in both the print and Web versions which, though not producing a large response, was still useful. The survey results, which concentrated mainly on how much people liked individual sections in the print and Web versions, editorial board comments and other feedback have led to a minor reorganisation of the structure and content of issue 8 of the print version (with a subsequent effect on the "common material" in the parallel Web version).
Finding out where Ariadne has been mentioned has become an important task, because of our nature as a Web-based magazine. There have been several instances of print publications and list emails mentioning the Web version of Ariadne. Complete with incorrect URL. We have managed to work around some of these errors, by setting up new domain names (www.ariadne.ac.uk, for example, currently points to the UKOLN home page, from which Ariadne is clearly flagged), or dummy home pages. However, domains such as www.ariadne.edu, we can do little about. Mentions of Ariadne are often indicated by a flurry of emails or requests from related readers/organisations - for example, several emails from Russia which recently arrived over a few days indicates some probable mention of Ariadne in the former Soviet Union.
Links to Ariadne from prominent LIS sites no doubt help casual readers to stumble across Ariadne, as well as raising its profile. By using the command link:http://ukoln.bath.ac.uk/ariadne/ in search engines such as AltaVista and Infoseek, it is to identify Web pages that have links to Ariadne. Pleasingly, there are many of these, and they include prominent sites such as the Library of Congress [33] and IFLA [25] resource listings.
Unwitting feedback - Web statistics analysis
Some information on how readers navigate through Ariadne can be gathered from analysis of the log file of accesses. For every file accessed in Ariadne, be it an article, picture, icon or some other object, an entry in the log file notes the date, time, file ID, client browser used and various other information. However, the use of caches at either a national level (in the UK, a significant number of file requests from academia are served from the Hensa [34] cache), or at an organisational level (such as a University or an Internet Service Provider), means that many accesses to Ariadne are not recorded in our log file. Analysis of the log file has to be undertaken with the caveat of these "hidden readers" kept in mind; it is more therefore more accurate to usually look for "trends" in any statistical analysis, rather than hard numerical access statistics. This is very frustrating, as we cannot establish exactly how many people in the UK HE and Library communities read the Web version of Ariadne.
Several facts and trends do emerge from a cursory analysis; we have logged accesses from over 100 countries; of these, substantial numbers originate in the US, Australia, Canada, Scandinavia, Germany and the Netherlands. 42% of the logged accesses are from the UK; however, as a relatively large proportion of UK accesses are served by caches, the real proportion is probably significantly higher.
In the near future, we will be starting to use one of the many Web statistical analysis packages now available to carry out more detailed analysis of the logged accesses. Several questions we hope to answer are:
Does the order in which articles are listed affect which ones are read? A slight, though not significant bias has been noticed towards articles listed nearer the top of the contents page. This may be accounted for by casual readers getting a "feel" for the style/content of Ariadne; a much more significant effect on accesses occurs when individual articles are mentioned on mailing lists - the "AltaVista vs Lycos" article [35] from issue 2, referenced on several "Web searching" discussion mailing lists, is the most accessed article across all issues of Ariadne by a considerable margin.
Do a significant number of readers favour articles in certain sections? Seeing if readers tend to read articles within a particular section, rather than access articles across an issue in a seemingly random manner, may indicate whether putting articles in particular sections (or whether the criteria for the sections is correct) was a good idea. It would also be interesting to see if a significant number of people, once they found an article they liked, read articles by the same author/in the same column in previous issues.
What kind of articles do librarians and library school students tend to read? Every file access in the log has some identification of which machine requested the file. This identification often carries clues about where the machine is based; it is very likely that most of those identifiers that contain the string lib are referring to accesses from libraries - however, some such accesses will not have been made by librarians/library students, while many librarian accesses will not contain this string. Despite these compromises, analysis of which files were accessed by machines with this identifying trait may still indicate what sort of content is more popular with our target audience.
The Future: 1997 (The Year of Living Dangerously) and Beyond
Ariadne was originally funded for two years, from the summers of 1995 to 1997. At the time of writing, this gives us only half a year under our existing funding remit, which has forced us to ask the question: "how can you financially sustain a newsletter for the Library and Information Science communities"? To even start to answer this, we have to look at the bigger picture.
The issue of future funding is set against an increasing backdrop of political, economical and technological turbulence and uncertainty in the United Kingdom. On the technological front, emerging bandwidth hungry applications, such as the Mbone, the increase in student numbers and the use of network-based technologies in mainstream academic research and teaching are resulting in unprecedented demands on bandwidth, and for hardware and software. Which costs money; a lot of money. On the political and economic front, 1997 is election year, with the outcome uncertain; the loser of our two main political parties seems likely to suffer deep trauma and undergo fragmentation and/or coalitions with other parties. However, the winner seems barely better off, with some painful choices to make regarding tax, what gets funding in the public sector, and what doesn't - the question is, how much of that pain will be borne by academia?
Upshot: more money needed; less money available; much uncertainty. However, amidst this uncertainty, a few facts can be stated with confidence:
In the next few years, network funding and charging mechanisms for the UK academic environment will change. This, combined with the effects of probably no increase, and possibly a decrease, in central funding for academia, mean that how we access, use, maintain and perceive network based technologies will change dramatically in a relatively short space of time.
Commercialisation may become more involved in filling any funding gap. This could involve private business running more of the infrastructure and administration of the UK, or an increasing number of essential networked-information providers charging for information, or the burden of funding shifting to the student (customer?). For example, a student can currently access one of a number of subject gateways and quickly locate a number of relevant resources; but what of the near future? Being forced to watch a 4 minute Java Applet-enabled advert? Or being asked for your credit card number ("Get UniversityCard today - 10 air miles with every subject search")?
New charging mechanisms, new technologies, converged library and computing services, new network-based resources - the learning curve of front-line library / "information resource centre" staff will not level out for the foreseeable future. Overheard at the enquiry desk of a UK University library last week: "I've found this book on the Net - it's exactly what I need for my dissertation, but they want me to pay by credit card - is it safe for me to type in my card number?". Overheard, again in a University library, this week: "My mate told me about this great site with loads of stuff and pictures of bats you can get and print off - I can't find it, where is it and how do I print off the pictures? My coursework is due in 30 minutes". How many front-line staff in your University library have the skills to answer these questions? How many will soon need these skills?
This isn't just cultural change; like it or not, it's cultural revolution.
For Ariadne, this cultural revolution is a curate's egg. First, the bad parts; how does the Web version of Ariadne, and other similar types of publication, get funding to continue? What are some of the alternative possibilities to a centrally-funding scenario?
Advertising: Adverts on the Web? Tricky - being dedicated to the Library and Information Science communities drastically reduces the number of potential clients. Many clients who would be interested in our audience would, if they advertised in Ariadne, instil a suspicion of loss of editorial impartiality or independence in that same audience.
Payment: This could take many forms; Universities as a whole could pay a flat fee, or people could be charged to download versions of individual articles; more complex, multi-level payment systems, such as that suggested in a previous D-Lib article [36] are also possibilities. But how much of the audience (both at an institutional and an individual level) would be repulsed, disenfranchised, or not think it worth the cost, of paying for a product they are used to accessing online for free? The experiences of several other Web-based journals [37] do not bode well.
Product spin-off: Ariadne the CD-ROM (a collection of articles from several issues)? Ariadne the book (a collection of the best articles, converted [some might think perversely] from original Web to Print)? Again, sufficient institutions or individuals would have to put hand in pocket and pay for it.
Merger: Ariadne merges with another project, or resource, which has mutually compatible aims and audiences; an international merger, to produce a more global electronic library developments newsletter / dissemination resource is more exciting, but presents additional problems. Also, though merging is one possibility, it doesn't actually address the issue of where the dollars come from to pay for issue production.
Benefactor: A kindly library school, university or company takes us under their wing and provides funding. Less likely to happen in academia (see aforementioned gloom on funding); more likely in the commercial world. As with advertising, there are problems with the perception of content independence.
All of the options above have disadvantages - the first three would require a significant amount of extra administration, possibly bigger than the current project (remember, Ariadne currently consists of a few part-time staff; a marketing department would be a significant development). Overall, there would seem to be a trade-off between making people or organisations pay to access Ariadne, and the perceived or real editorial independence of such a publication.
To complicate matters, there is the relationship with the Print version; how should that be funded? Differently? Not at all (i.e. by revenue brought in by the Web version)? And how does the content interchange between both versions alter - should they be completely different versions? Or become completely identical? Or the Web version offer "tasters" (snippets) of material in the Print version?
To complicate matters further, what are the other LIS publications of a similar nature up to? Are any of them duplicating to a large degree what we cover (current answer: occasionally, in some sub-areas, but never frequently)? Will someone in the UK launch a "rival", free, Web-based publication for the academic LIS communities, covering the same sub-subject fields (current answer: who knows)? Deciding on the best strategy, in terms of acceptable funding (for our audience, and for us to sustain Ariadne), editorial independence, change of content, style and produce delivery and change of interaction between the Web and Print versions is very much a "non-trivial" task.
But what of the good parts of the curate's egg? Well, journalists say that "no news is bad news", and with the cultural revolution we find ourselves stuck in, there is no problem for the foreseeable future in finding relevant, useful content for our core and greater audiences. Sitting down every week and thinking "what's happening in the digital library movement", looking at what is announced and what people have submitted, the problems are not trying to flesh out Ariadne, but deciding what to include, what is relevant and useful now, and what will be relevant and useful in the near-future. This is good; we have a purpose, and we have content.
What of the future? As many eLib projects (and perhaps Ariadne) start to emerge from under the blanket of eLib funding, blinking and groping in the harsh and brightly lit world of self-funding autonomy, one lesson most will learn is that evolution does not end with eLib funding. System development, transfer of technologies, responding to rapidly changing audience/customer requirements and demographics; all of these will be ongoing and unending.
References
[1] The Web version of Ariadne, as described in this article: http://www.ukoln.ac.uk/ariadne/
[2] The print version of Ariadne is described in some detail in a companion piece to this article, "The Professional Magazine and Parallel Publishing", written by the Ariadne Magazine (print) Managing Editor, John MacColl: http://www.dlib/org/february97/02maccoll.html
[3] The Follett Report, commissioned by the Funding Councils of the UK in 1993, with the aim of looking at how to deal with the pressure on library and information resources caused by the large increase in student numbers: http://ukoln.bath.ac.uk/follett/follett_report.html
[4] The Electronic Libraries Programme (eLib): The programme, managed by JISC, which seeks to develop and implement Electronic Library resources, infrastructure and skills for the UK Higher Education sector: http://www.ukoln.ac.uk/elib/
[5] The JISC (Joint Information Systems Committee) funds and manages the eLib programme. JISC is funded by the Higher Education Funding Council of England: http://back.niss.ac.uk/education/jisc.html
[6] The Internet Resources Newsletter, produced at Heriot-Watt University, is targeted at academics, students, engineers, scientists & social scientists: http://www.hw.ac.uk/libWWW/irn/irn.html
[7] D-Lib, the Magazine of Digital Library Research, is produced by CNRI. A monthly magazine, it contains stories, briefings and in-depth articles on leading edge Digital Libraries research: http://www.dlib/org
[8] PACS (Public Access Computer Systems News) Review. Issued on an irregular basis by University Libraries, University of Houston, this has a wide scope of material from the fields of networking, IT and CD-ROMS: http://www.lib.ncsu.edu/stacks/p/pacsn/
[9] MC Journal: The Journal of Academic Media Librarianship. A peer- reviewed journal, articles for MCJ focus on a variety of issues facing media professionals in institutions of higher education, such as cataloging the Internet, copyright and distance learning: http://wings.buffalo.edu/publications/mcjrnl/
[10] LIBRES (Library and Information Science Research Electronic Journal). LIBRES is an international, refereed, electronic journal devoted to new research in Library and Information Science: http://www.lib.lsu.edu/stacks/l/libres/
[11] The Katherine Sharp Review, a peer-reviewed e-journal devoted to student scholarship and research within the interdisciplinary scope of Library and Information Science: http://edfu.lis.uiuc.edu/review/
[12] A review of the BUBL (Bulletin Board for Librarians) service, in the first issue of Ariadne: http://ukoln.bath.ac.uk/ariadne/issue1/bubl/intro.html
[13] A reply from the BUBL team, displayed in Ariadne, in response to the previous reference: http://ukoln.bath.ac.uk/ariadne/issue1/bubl/intro.html#r1
[14] John Lindsay's article on the evolution of the UK academic network infrastructure in Issue 6 of Ariadne, which contains come forthright opinions on current Electronic Library developments: http://www.ukoln.ac.uk/ariadne/issue6/lindsay/
[15] Cartoon. A regular cartoon, with a networking or IT theme, appears in both versions of every issue of Ariadne: http://www.ukoln.ac.uk/ariadne/issue7/cartoon/
[16] Sideline. A column in issues 1 to 7 of both the print and Web versions of Ariadne. This is an off-beat look at the trials and tribulations of attending conferences: http://www.ukoln.ac.uk/ariadne/issue7/sideline/
[17] Caption Competition. From issue 2, every issue of the Web version featured a caption competition, which has proved to be very popular. Using fill-in forms or the mailto: function, most readers can quickly send in a caption to be considered: http://www.ukoln.ac.uk/ariadne/issue7/caption/
[18] UKOLN, the UK Office for Library and Information Networking. An organisation, jointly funded by JISC and the British Library to carry out research and dissemination in areas including Metadata, Resource indexing, Public Library networking and Bibliographic Management: http://www.ukoln.ac.uk/
[19] Information Services at the University of Dundee, Abertay, where the print version of Ariadne is produced: http://www.tay.ac.uk/www/library/ualibwww.htm
[20] The Electronic Telegraph. A parallel version of the largest circulation broadsheet newspaper in the UK. The Web version contains all of the material in the print version, as well as links from each story to related network-based resources. An article on the production of the ET will appear in issue 8 (mid-March 1997) of both versions of Ariadne: http://www.telegraph.co.uk/
[21] A page from which Ariadne can be searched. Two facilities are available, that of just searching Ariadne locally, or that of searching Index Morganagus, which is an index of Ariadne and 35 other LIS resources, remotely: http://www.ukoln.ac.uk/ariadne/search/
[22] Javascript pop-up. If your browser (a recent copy of Netscape or Internet Explorer will do) can recognise Javascript, selecting this resource will generate, in addition to the contents page for Issue 6, an extra browser window. Through this window, you can jump to any of the main sections in one go, no matter where you currently are in issue 6 of Ariadne. We are currently evaluating our experiments with Javascript: http://www.ukoln.ac.uk/ariadne/issue6/test.html
[23] Electronic Journal Formats, Judith Wusteman, Program, Vol 30 No. 4, pp 319-343. An excellent review and comparison of the multimedia document formats currently used in electronic journals. Email: [email protected]
[24] OMNI Corner - a regular column in the Web version of Ariadne that covers issues regarding health and medicine informatic. OMNI is an eLib projects dedicated to building and maintaining a subject gateway for medical networked information; the column is written by Sue Welsh, the project officer. http://www.ukoln.ac.uk/ariadne/issue7/omni/
[25] IFLA Digital Libraries Resources and Projects Index. A superb and authorative listing of many of the key projects and developments in this field: http://www.nlc-bnc.ca/ifla/II/diglib.htm
[26] Bobby is a Web-based application that will tell you if your Web pages are compatible with browsers used by the disabled. The advanced options allow you to check across a range of browser versions, and also to check against several levels of HTML: http://www.cast.org/bobby/advanced.html
[27] lis-link mailing list. The main mailing list in the UK for academic librarians: http://www.mailbase.ac.uk/lists/lis-link/
[28] lis-elib mailing list. The main mailing list for announcements, nontechnical discussions and other matters arising from, or relevant to, the Electronic Libraries Programme: http://www.mailbase.ac.uk/lists/lis-elib/
[29] The We4Lib mailing list is an electronic discussion for library Web managers and those people either affected by, or developing, Web-based resources for Libraries: http://sunsite.berkeley.edu/Web4Lib/
[30] The Liszt directory of electronic forums, such as mailing lists and Usenet newsgroups. The list is searchable, and indications are given on how to join and participate in individual forums: http://www.liszt.com/
[31] Netskills. An eLib project, like Ariadne from the Training and Awareness area of the Programme: http://www.netskills.ac.uk/
[32] SOSIG - Social Science Information Gateway. An eLib project, from the Access to Network Resources area of the Programme. This is an acclaimed gateway to quality, assessed resources in the wide area of the Social Sciences. The gateway allows you to browse or search the assessed resources; amongst several options are the ability to distinguish between UK and non-UK resources: http://www.sosig.ac.uk/
[33] The Library of Congress listing of Library and Information Science Resources, with sections for journals, national libraries, general resources and so forth: http://lcweb.loc.gov/global/library/library.html
[34] Web pages describing the UK Academic National Web Cache at HENSA Unix: http://www.hensa.ac.uk/wwwcache/
[35] AltaVista vs. Lycos. An article from issue 2 of the Web version of Ariadne comparing these two search engines: http://www.ukoln.ac.uk/ariadne/issue2/engines/
[36] Pricing Electronic Journals, Hal R. Varian, D-Lib Magazine, June 1996. An examination of pricing strategies and models for Electronic Journals: http://www.ukoln.ac.uk/dlib/dlib/june96/06varian .html
[37] "In Cyberspace, no one hears you scream", Emily Bell, The Observer (national UK newspaper), 26 January 1997. An article that gives several examples of free Web-based publications that have suffered problems when moving to a charge-based system. For example, the Wall Street Journal went from 600,000 subscribers to its free edition, to 50,000 subscribers when it began charging a modest annual subscription. Email: [email protected]
Copyright © 1997 John Kirriemuir
Approved for release, February 14, 1997.
Spelling correction made at the request of the author, Editor, February 17, 1997.


hdl:cnri.dlib/february97-ariadneweb