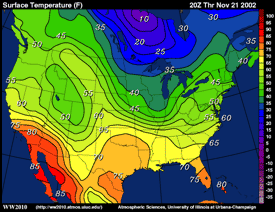 Image from the University of Illinois WW2010 web site showing surface temperature. Copyright © University of Illinois. Used with permission.
D-Lib Magazine's featured web site this month is the Weather World 2010 (WW2010) web site.
Faculty, staff and students in the Department of Atmospheric Science - University of Illinois at Urbana-Champaign (DAS-UIUC) contributed to the initial release of WW2010 in 1997. With informative instruction, illustrative images, dynamic animations, movies, and interactive classroom activities, this project focuses on the construction of a multimedia environment for geoscience education.
DAS-UIUC members created WW2010 from the Online Guide to Meteorology, originally developed by the department as part of the Collaborative Visualization (CoVis) project. The WW2010 project created a new framework to integrate the Guide's multimedia instructional modules in order to provide a comprehensive look at popular topics in the atmospheric sciences. This framework also allows for the easy integration of new instructional modules as needed. The topics covered by the web site are listed below:
Online Guides

Air Masses and Fronts
Clouds and Precipitation
El Niño
Forces and Winds
Hurricanes
Hydrologic cycle
Light and Optics
Midlatitude Cyclones
Radars
Satellites
Severe Storms Spotters guide
Weather Forecasting

Archived Case Studies

April 19, 1996 Tornado Outbreak
Hurricane Andrew
Superstorm 1993
Veterans Day 1996 Snowstorm
WW2010 resources also include information on introductory topics like converting local time to Universal Time Coordinates and interpreting surface observations. It also provides teachers with online activities and projects as well as detailed instructions that serve as a blueprint for effective classroom instruction. Finally, an index page also assists learners find their desired topics in just a couple of clicks.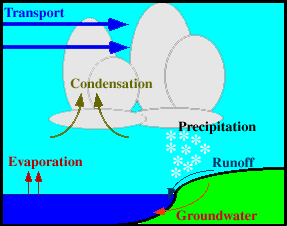 Image from the University of Illinois WW2010 web site showing how lake effect snow forms. Copyright © University of Illinois. Used with permission.
Designed with both teachers and students in mind, WW2010 includes several useful features. Current weather maps are easy to read and interpret. Relevant explanatory materials are implemented to introduce each image, its features, and how to interpret them. WW2010 resources are organized into a logical hierarchy by subject and subtopic areas and can be efficiently navigated using the menu system—enabling users to move between hundreds of pages with only a few clicks. This navigation architecture proves its efficiency by allowing a user to move from any page to another on the server in no more than six clicks, and oftentimes in two or three. An additional navigational tool allows page-by-page access by simply clicking on graphical arrows at the bottom of each page.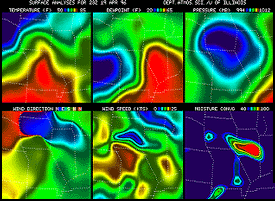 University of Illinois WW2010 web site six-panel image displaying Temperature, Dew Point, Temperature and Pressure, Wind Direction, Wind speed and Moisture Convergence data. Copyright © University of Illinois. Used with permission.
On most pages, key words are linked to special helper pages. These pages allow the user to access more information on the keyword and enable users to either return to the original page they were viewing or to move to a page elsewhere in WW2010 that discusses the keyword more completely. This feature allows the user to obtain useful information from another part of the server and easily return without getting "lost" elsewhere on the site.
Also, to reduce one's dependency upon the network, we produced an educational CD-ROM that includes all of our Internet-based instructional resources. The CD-ROM is currently available at cost from DAS-UIUC and is simply a copy of the website through which a user can access WW2010 resources without having to go online. In addition, selected pages on the CD-ROM will have links to allow direct access to relevant real time weather data from the WW2010 web server.
The Weather World 2010 (WW2010) web site is at <http://www.atmos.uiuc.edu>.
Contributed by:
Daniel Bramer
Department of Atmospheric Sciences
University of Illinois at Urbana-Champaign
<bramer@atmos.uiuc.edu>