Born as the Colorado Digitization Project in 1998, the CDP has broadened its scope, and serves a number of roles as a collaborative organization supporting digitization infrastructure for cultural heritage organizations of all kinds. Its services include: training, web-based practitioner tool-kits, regional image capture equipment, searching software, digital archiving services, data entry templates, and other resources for libraries, museums, archives and historical societies engaged in digitization of primary resource collections. In addition, the CDP provides Heritage, a metadata catalog with links to images for more than 30,000 primary resources held by 50 organizations, and access to 95,000 images from the Denver Public Library, Western History/Genealogy Department.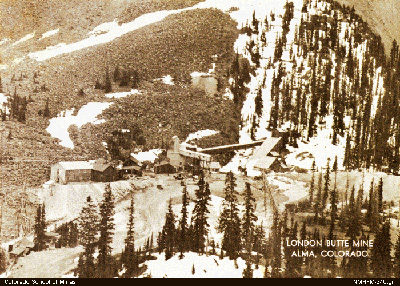 Photograph of London Butte Mine, Alma Colorado. Copyright National Mining Hall of Fame and Museum, Leadville, CO. Used with permission.
The CDP has received IMLS, LSTA, and other funding for a number of ground-breaking large-scale projects, which are now reflected at http://www.cdpheritage.org/. A project called Western Trails (to be completed this summer) is creating both a web exhibit and links to state-wide trails collections in Colorado, Nebraska, Wyoming, and Kansas. A project called Colorado's Historic Newspaper Collection is demonstrating a statewide approach to capture, display and searching over 200 historic newspapers; fourteen papers are already available with many more to come. The final report for Teaching with Colorado's Heritage will show ways to reach out to the K-12 communities on a large scale, modifying teacher training material prepared by the Library of Congress so that states can implement programs helping teachers use digital primary resource material in ways that meet state standards. This project involved over 230 teachers, using 4 models for reaching and teaching teachers, including distance learning programs, a seminar, a teleconference, and integration into existing teacher workshops. All the teacher course material will be web-accessible.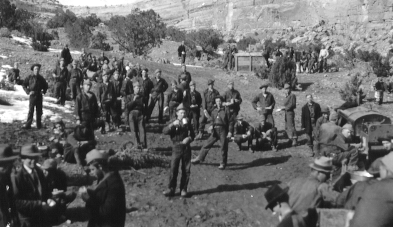 Photograph of Civilian Conservation Corp (CCC) activity in Colorado. Courtesy of the Colorado State Archives. Used with permission.
Not only does CDP build collections of primary resources in digital formats, but it always does so in a collaborative way. Its Board is comprised of representatives from key partner organizations and from each type of cultural heritage organization. Best practices documents for metadata, digital imaging, digital audio, collections management, and legal issues have all been prepared by working groups representing all libraries, archives, museums, and historical societies. This emphasis on the value of collaboration is reflected in the byline of the CDP: enriching lives together.
Collaborative Digitazation Program is located at <http://www.cdpheritage.org/>
Contributed by:
Nancy Allen
Chair of the Board of the Collaborative Digitization Program