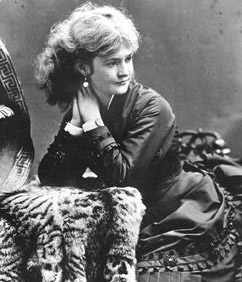 Lotta Crabtree, Vaudeville Performer. Photograph courtesy of the San Francisco Performing Arts Library & Museum. Used with permission.
The entertaining (pun intended) Vaudeville Memories collection is a personal collection that evolved over a period of years. The collector, Ruth Muldrew, describes the development of her interest in vaudeville as follows:
"The inspiration for Vaudeville Memories was an old faded sign painted on an alley wall in downtown Winnipeg. When I first noticed it in the 1970s, it had been untouched for fifty years, but the words "CONTINUOUS VAUDEVILLE!" were still visible through the urban grime. Curious, I asked my mother what it meant. She gave her stock reply 'Go and look it up at the library'."
"Taking her advice, I discovered that my home city had a remarkable theatrical past. Winnipeg had been a major stop on the Orpheum Circuit, the biggest of "big time" in vaudeville. Lon Chaney, the Marx Brothers, Charlie Chaplin and other major stars had all appeared there. Curiosity led to research, which was unearthed years later for a college history project. Ten years later that project was recycled into the first Vaudeville Memories website."
"Vaudeville was the predominate entertainment in North America for fifty years. As an entertainment form it died a relatively sudden death in the early 1930s and lapsed into obscurity. Its death left thousands of performers, technicians, managers and other professionals out of work. Some adapted to radio and the movies, but most seemed to just disappear. Vaudeville Memories compiles links and original material to try to answer the questions of what (and who) vaudeville was, and why it has so completely faded from our collective memory."
"Oh, and the old sign? It was razed in the 1980s to make way for a shopping mall. Such is progress."