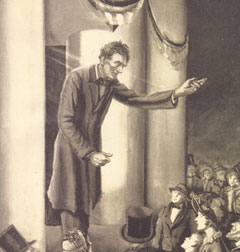 Lincoln's Peoria Speech, October 16, 1854. Courtesy of Northern Illinois University. Used with permission.
The Abraham Lincoln Historical Digitization Project's Lincoln/Net World Wide Web site (http://lincoln.lib.niu.edu) builds upon the tradition begun by the Valley of the Shadow Project (http://valley.vcdh.virginia.edu) and other first-generation historically oriented digital libraries in providing online users with an opportunity to examine and search large amounts of primary source materials pertaining to a specific historical figure and period. But it diverges from its predecessors by furnishing significant interpretive materials. These original resources use Abraham Lincoln's familiar life story and experiences as a lens to illuminate his historical context in antebellum America. In doing so, they provide the Web site's users with access, in an expanded sense, to the collected primary source materials.
In addition to a brief biography discussing Lincoln's experiences before the presidency (1809-1861), Lincoln/Net's interpretive resources summarize historians' discussions of eight major themes in antebellum American history: Frontier Settlement, Economic Development and Labor; Native American Relations; Law and Society; Political Development; African-Americans and White Americans' Racial Attitudes; Religion and Culture; and Women's Experience and Gender Roles. Lincoln/Net also features streaming video files in which leading historians discuss episodes in Lincoln's life as they relate to major themes in their scholarly publications. Together, these textual and video interpretive materials provide Lincoln/Net's users with an opportunity to locate primary source materials within the discourses historians have used to analyze and discuss these sources. As such, they can help individuals visiting the Lincoln/Net site to identify their own interests amidst these events and interpretations, and formulate questions with which they may search the databases.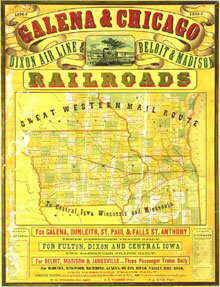 Galena and Chicago Railroad, Promotional Poster, 1856. Courtesy of the Chicago History Museum. Used with permission.
The Lincoln/Net World Wide Web site's interpretive materials help project users to come to grips with over thirty million words of text, over 3000 images, and over 100 sound and 100 video files. Project users may explore texts including Lincoln's papers, as well as contextual materials including emigrants' guides, letters, diaries, and formal publications, including a number of nineteenth century song books, stored in relational databases, through the use of the PhiloLogic software suite. Developed by the University of Chicago's ARTFL Project and the University of Chicago Libraries' Electronic Text Services Division, PhiloLogic facilitates user searching by author, title, date, and genre, as well as familiar string searches. In addition, project users may explore subsets of texts corresponding in content with each of the project's eight themes. Project staff members and workers have marked these texts up in a scheme compliant with TEI Lite that also uses customized Dublin Core headers to identify resources by the above categories.
Project image materials include maps, engravings, and early photographs, available through a MySQL database using the PHP scripting language. Project staff members and collaborators have also used digitized period song books to record performances of selected songs, which are available in RealAudio format. They present students and lifetime learners who find musical materials particularly instructive with a rich resource. The Lincoln/Net site features dynamic historical maps generated by Geographic Information Systems (GIS) technology as well. These components of Lincoln/Net provide an audience increasingly comprised of individuals familiar with, and expecting to find, online multimedia materials with the resources they seek.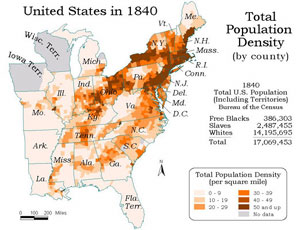 U.S. Population Density, 1840. Courtesy of Northern Illinois University. Used with permission.
In the past decade librarians and digital historians have provided users around the world with the opportunity to explore a wealth of primary source materials via the World Wide Web, database technologies, and sophisticated markup schemes. In order to expand this user group even further, to include lifetime learners usually lacking a firm grasp on the historical contexts in which these source materials were developed, both groups can develop new digital library resources integrating historians' interpretive insights into their Web sites as well. Lincoln/Net represents an attempt to construct such a new type of resource. It seeks to furnish non-specialist users with the complementary resources they will need to become a more discriminating information seeker, identifying a topic of interest or information need. This process represents an expansion of the idea of access to digital materials from librarians' conventional understanding of providing patrons with the ability to obtain or make use of library materials toward a new definition emphasizing their ability to comprehend primary source materials, or find theme "accessible."
The home page for Lincoln/Net can be found at http://lincoln.lib.niu.edu.