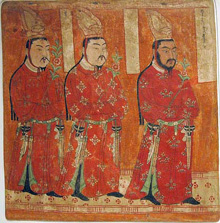 Uighur princes, wall painting from Bezeklik cave temple 9 (Xinjiang, China), 8th-9th century CE, 62.4 x 59.5 cm. Collection of the Museum für Indische Kunst, Berlin (MIK III 6876a). Photograph © 2004, Daniel C. Waugh. Used with permission.
Silk Road Seattle is an ongoing Internet public education project using the "Silk Road" theme to encompass cultural interaction across Eurasia over some two millennia, down to the end of the seventeenth century. The project began in 2002 as part of a series of public events sponsored primarily by the Walter Chapin Simpson Center for the Humanities at the University of Washington in conjunction with the Silkroad Project concerts of the famous cellist Yo-Yo Ma. Our goal is to make freely accessible on the Internet a wide range of teaching and learning materials. These materials have already enriched my survey course on the Silk Road and facilitated my teaching an experimental on-line, non-credit course that enrolled students from around the world.
Some highlights of the collection include: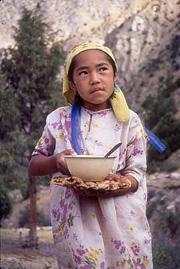 A Kyrgyz girl offering traditional hospitality, Aksu Valley, Pamir-Alai Mounts, Kyrgyzstan. Photograph © 1995, Daniel C. Waugh. Used with permission.
Historical Texts. In this section, we present texts in English with short introductions, minimal annotation and, occasionally, the addition of maps and illustrations. In some cases, students have edited texts as course assignments. Most sources for these texts are older works no longer under copyright, but recent translations have begun to increase in number. As an experiment to encourage scholarly exchange for revisions, we have posted fully annotated draft translations by Mr. John Hill (Cooktown, Australia) of two important early Chinese sources. One of these translations will soon appear in hard copy, at which time—by agreement with the publisher—that translation will be removed from our site for two years.
Art of the Silk Road. Designed by Ph.D. candidate John Szostak, this section, titled Art of the Silk Road, is an ambitious exhibition that includes descriptive text, maps, and (with permission) dozens of images from major museums, among them the British Museum and the Museum für Indische Kunst (Berlin). We will soon post a Spanish translation of this entire exhibition, prepared under the supervision of Prof. Dolors Folch of Universitat Pompeu Fabra in Barcelona.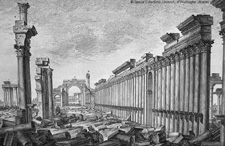 View of the ancient Syrian caravan city of Palmyra, engraving from Robert Wood, The Ruins of Palmyra, otherwise Tadmor, in the desert (London, 1753). Image courtesy of the University of Washington Libraries, Special collections. Used with permission.
Museum Collections. This section provides a set of annotated links to the collections of major museums where materials related to the Silk Road reside. The Museum Collections section also presents more than 1100 photographs I have taken of art objects housed primarily in museums that do not yet have much of an Internet presence. Highlights include the Turfan Collection of the Museum für Indische Kunst in Berlin and the Aurel Stein Collection in the National Museum, New Delhi.
Maps. For our Silk Road Atlas we have created many schematic maps and an interactive map exercise to help students learn locations along the Silk Road.
Traditional Culture. The focus here is on the cultures of Central Asian pastoral nomads. Much of the work in this section has been done by Ph.D. candidate Elmira Köçümkulkïzï, whose description of her Kyrgyz wedding includes video clips. She has also provided a draft translation of Kojojash, an important early Kyrgyz epic.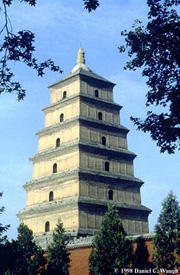 Big Wild Goose (Dayan Ta) pagoda, 652 and 701-704 CE, Daci'en Monastery, Xi'an, China, built to house the library collected in India by the Buddhist pilgrim-monk Xuanzang. Photograph © 1998, Daniel C. Waugh. Used with permission.
Cities and Architecture. Among the most extensive pages in this section of the Silk Road Seattle site are those for Samarkand, Isfahan (text by Prof. Kim Sexton of the University of Arkansas), and Palmyra (text by Prof. Albert Dien of Stanford University). The last of these includes engravings from Robert Wood's famous eighteenth-century description of the city, courtesy of the University of Washington Libraries. We have created interactive image maps for navigation around several of the Silk Road cities.
Ongoing work on our website is supported by the Silkroad Foundation of Saratoga, California, with which we closely coordinate. The search engine at our site simultaneously searches their site as well. To date, most of web design for Silk Road Seattle (as well as some of the writing) is the work of M.A. candidate Lance Jenott. Federal work-study funding extends our modest financial resources. Our ability to continue adding material depends on the time available and the degree to which we can continue enlisting contributions of material from others.
Silk Road Seattle is located at: <http://depts.washington.edu/uwch/silkroad>. Questions and comments as well as offers of contributions should be sent to me, Daniel Waugh, at <dwaugh@u.washington.edu>.