Harlem Globetrotter Baseball Team, 1949
Photograph by Mickey Pallas
Mickey Pallas, American, 1916-1997
Gelatin silver print, 26.5 x 26.5 cm
Center for Creative Photography, Tucson, AZ, USA
Mickey Pallas Archive/ Gift of the artist and Pat Pallas 94:057:038
The AMICO Library: CCP_.94:057:038
© 1995 Center for Creative Photography, The University of Arizona Foundation. Used with permission.
Have you ever wanted to rearrange the galleries in a museum so that works were grouped according to your intellectual criteria? Would you like to compare a chair from ancient Egypt to that of an African chief to the famous Barcelona Chair created by Ludwig Mies Van der Rohe in 1929? Where can you look at works of art from the J. Paul Getty Museum, The Metropolitan Museum of Art, the Art Institute of Chicago, the National Gallery of Canada, and over 25 more museums all in one place? The AMICO Library™ allows you to do all these things and more.
The AMICO Library is a growing digital collection of museum multimedia, now documenting approximately 65,000 works from over 30 museums in North America. The collection includes works by major European, American, and Canadian artists, in a wide range of media, including painting, sculpture, prints and drawings, photography, decorative art, textiles, and contemporary installations. Many cultures are also represented in the AMICO Library, including Asian, African, ancient Greek, Roman, Egyptian, Native American, Inuit, and Pre-Columbian (Meso-American) works. The AMICO Library grows through annual contributions of digital images, text, and other associated multimedia about works in each Member's collection.
The AMICO Library is a collaborative creation of the Art Museum Image Consortium (AMICO), a non-for-profit organization with Member museums throughout North America. Founded in 1997, AMICO enables educational use of museum multimedia through the creation and distribution of the AMICO Library. The consortium compiles and edits members' contributions, ensuring the structural integrity of database records, and enhancing indexing. The consortium works to define guidelines for the description of works of art that enable users to search the collection as a whole, but still allow the institutional members to maintain overall control of the content they contribute.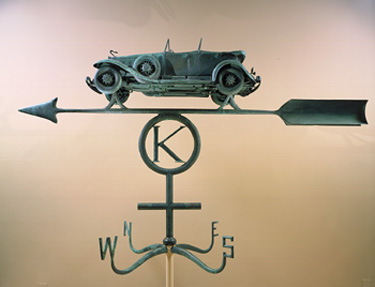 W. W. Robbins, American, and J. E. Evans, American
Weather Vane/Model of a Cadillac V-16 Sport Phaeton, 1931
Molded copper, bronze and glass, 60 1/2 x 97 x 30 3/4 in.
Smithsonian American Art Museum, Washington, DC, USA
Museum purchase from the folk art collection of David L. Davies 1992.2.1
The AMICO Library: NMAA.1992.2.1
© 1998 National Museum of American Art, Smithsonian Institution. Used with permission.
AMICO collaborates with other organizations to make the AMICO Library available under license to colleges, universities, K-12 schools, and public libraries. Two distributors now serving the majority of subscribers are the Research Libraries Group (RLG) and the OhioLINK Consortium. While both applications are governed by the AMICO Distributors Specification, the differences in these implementations are instructive. RLG distributes the AMICO Library as a separate resource. OhioLINK has integrated AMICO works into a multi-collection image database. Both offer flexible searching on keywords, or "advanced" searching by date, artist name, object type, creator nationality, keyword, owner museum or a combination of these.
To get an overview of the AMICO Library, search the Thumbnail Catalog at <http://search.amico.org>. Works in the full, subscriber edition of the AMICO Library contain a catalog record and at least one still image of a minimum of 1024x768 pixels (often higher quality images are available off-line). Many entries also include multiple views and further multimedia documentation, such as sound files, curatorial commentaries, video clips, conservation histories, and provenance data. Details about subscriptions via RLG, and about getting a trial subscription to the AMICO Library delivered through Eureka™ may be found at <http://www.rlg.org/amico>.
The AMICO Library was first made available for subscription in July 1999. Today it is accessible to over 800,000 students in 120 schools in the U.S. and Canada. AMICO recently announced that the JISC is enabling preferential subscription rates for all higher education institutions in the United Kingdom, approximately 1.4 million students.
Membership in AMICO is open, and other institutions are encouraged to join this effort to facilitate use of the works in cultural collections. For further information about AMICO, detailed technical specifications, and background documentation, please see our web site at <http://www.amico.org>, or contact:
Jennifer Trant
Executive Director
Art Museum Image Consortium
<jtrant@amico.org>
Kelly Richmond
Communications Director
Art Museum Image Consortium
<kelly@amico.org>
Copyright (c) The Art Museum Image Consortium