April 2000
The David Rumsey Collection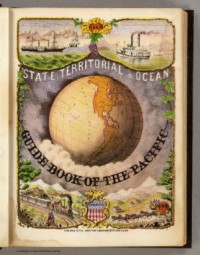 Copyright 1998 - 2000 Cartography Associates. Used with permission.
About the image above:
"(Illustrated Title Page to) State Territorial and Ocean Guide Book of the Pacific". San Francisco: S.M. Holdredge, 1866.
At the beginning of March, one of the largest private map collections in the United States, the David Rumsey Collection, went online at <http://www.davidrumsey.com>. The collection focuses on 18th and 19th century North and South American cartographic materials. The collection includes atlases, globes, school geographies, maritime charts, and a variety of separate maps including pocket, wall, children's and manuscript. The online exhibition is an expanding cross section of very high-resolution images (currently over 2,300) designed to highlight the depth and breadth of the collection. This combination of primary source material and the latest in digital technology provides the viewers with a new way to directly interact with these valuable materials.
Currently, the site has 36 complete atlases including Jefferys' "American Atlas" (1776), Popple's "Map of the British Empire in America" (1733), Collot's "Journey in North America" (1796), Tanner's "American Atlas" (1823), Burr's "American (Postal) Atlas" (1839), and Garcia Cubas' "Atlas Pintoresco" (1885). Other items of interest are the first globes produced in the United States created by James Wilson, the Lewis and Clark 1814 map of the northwestern United States, and over 100 of the maps created by the U.S. Wheeler surveys from 1869-1879. By year-end, the site will include 5,000 images.
Copyright 1998 - 2000 Cartography Associates. Used with permission.
About the image above:
Screen shot from the David Rumsey Collection
The Rumsey site is powered by the revolutionary Insight Browser software from Luna Imaging, Inc. (http://www.luna-imaging.com), which enables the user to zoom in on and pan around the maps revealing rich details. Although the original digital map images are huge (some approach 2 gigabytes in file size), Luna's Insight software allows for easy manipulation of the maps. Each image is accompanied by a full cataloging record that gives detailed information about the map. The database can be searched by field, keyword, or subject, and allows the user to sort the results to their liking.
The David Rumsey Collection is available in two formats. The collection is available over the World Wide Web using a standard Web browser such as Explorer or Netscape at <http://www.davidrumsey.com>. This browser format has been designed for the general public. The JAVA Client format has been designed for the researcher and those desiring advanced software functionality. In order to view the collection using the JAVA Client, special software may be downloaded from the Rumsey Web site. For new users, the browser version is recommended.
Contributed by:
David Rumsey and Julie Sweetkind
Cartography Associates


Copyright (c) 2000 David Rumsey and Julie Sweetkind