D-Lib Magazine
May/June 2010
Volume 16, Number 5/6
China National Science and Technology Digital Library (NSTL)
Qiao Xiaodong
Institute of Science and Technology
Information of China
<qiaox@istic.ac.cn>

Liang Bing
Institute of Science and Technology
Information of China
<liangb@istic.ac.cn>

Yao Changqing
Institute of Science and Technology
Information of China
<yaocq@istic.ac.cn>
doi:10.1045/may2010-xiaodong
Abstract
In order to acquire and share high quality foreign science and technology documents (and other resources) among research personnel in educational and scientific organizations in China, the Ministry of Science and Technology (among others) established the Centre for Documentation and Information in 2000. The Centre employs an integrated purchasing system that ensures the processing of documents according to regulations, and may provide document retrieval and original transmission services via the Internet. The National Science-Technology Digital Library was founded in 2008. This article describes the ongoing development and service strategy of the Centre, and focuses on the expansion of various service modes of the Library in its new service network.
Keywords: NSTL, S&T Literature, Guarantee System
1. Introduction
1.1 Establishment of NSTL
Chinese National Science and Technology Library (NSTL), a public service organization providing science and technology (S&T) information resources in a network environment, was established on June 12, 2000 with the approval of the State Council PRC. NSTL is a collaboration of the National Science Library of Chinese Academy of Sciences (NSLC), Institute of Science and Technology Information of China (ISTIC), Chinese Machinery Industry Information Institute, China National Institute of Standardization, China Metallurgical Information and Standardization Institute (MIS), China National Chemical Information Center (CNCIC), Agricultural Information Institute of CAAS, Institute of Medical Information of Chinese Academy of Medical Sciences, Standards Library of China National Institute of Standardization, and Literature Library of National Institute of Metrology. NSTL provides nation-wide services in S&T literature and information through resource collections, archives, and associated applications in science, technology, agriculture, and medicine. Activities include literature collection, resource processing, data storage, online service provision, and data analysis, using principles of centralized procurement, standardized processing, unified on-line releases, and resource sharing.
Most domestic libraries and other literature and information-based institutions provided services for readers mainly through the acquisition of cheap photocopies of the international literature until China became one of the formal members of WTO. When China joined WTO in 2001, Chinese publishers had to stop their reprinting business at the same time that demand for foreign literature in China increased. NSTL quickly addressed this issue with the release of a national online document delivery service. As a result of a strong guarantee from NSTL, universities and colleges in China began to decrease demand for printed journals and turned to the purchase of online literature. Meanwhile, the National Library adjusted resource development policies, reduced the acquisition of international S&T literature and greatly expanded their list of foreign social works. Almost all of the information and service centers in China ceased purchasing foreign S&T literature and turned to collecting local literature information and resources, thus extending their services by relying on NSTL resources. In a word, the establishment of the NSTL national S&T literature guarantee system has significantly contributed to the integrated and structured deployment of China's international literature resource utilization.
1.2 Motive and Strategic Positioning
In order to comply with the literature and information needs of national science and technology development, NSTL guarantees its services without regard to factors such as region, economy, and technology markets, nor to the impact of demand in a particular period. The NSTL literature access guarantee system supports S&T information institutions, allowing them to enhance their services over the long-term, even in a market economy.
The strategic objectives of NSTL's development in the New Era are to:
Strengthen the guarantee of national S&T resource access;
Continue to perfect the services related to S&T resources, including the stabilization of outreach services, extended services, open-source applications, establishing an open system of resource integration, and supporting the adequate utilization of S&T literature, thus making NSTL the service hub for national S&T literature information.
Expand and promote the mechanisms for resource sharing and information integration through support of other literature service systems, reinforcing application research, sample demonstration and tests and marketing and public reputation, and so become the support center for national S&T literature information service development.
1.3 Organizational Structure
NSTL works under the leadership of the Council, which is responsible for overall direction and decision-making. It is constituted of recognized scientists, information experts and representatives of other relevant departments. NSTL will operate under the policy instruction and the supervision of the Ministry of Science and Technology (MOST) on behalf of all six ministries. The Director's main job is to organize the personnel and guide the work. This is achieved through a virtual office organization which manages the sharing of S&T literature information resources. Consultation and guidance for the operation of services is provided by the Information Resource Experts Committee and the Computer Network Service Experts Committee, as shown in the figure below.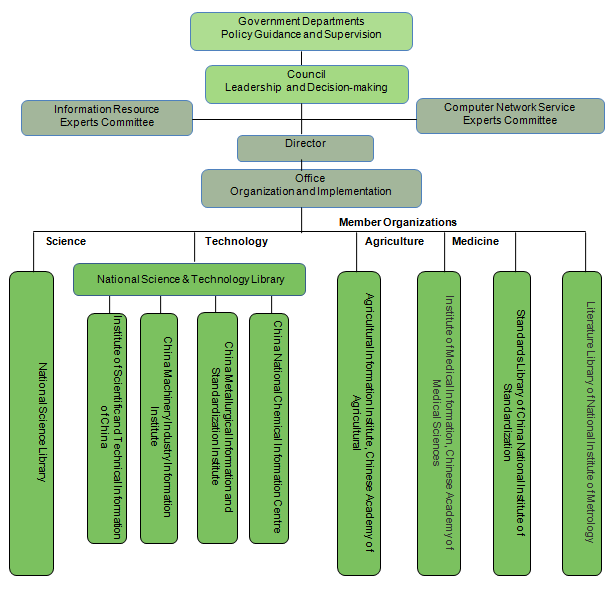 Chart 1. NSTL Organizational Structure
2. NSTL Resources
2.1 Types
Currently, the S&T literature collected by NTSL includes Chinese, Japanese and Russian S&T journals, conference proceedings in Chinese and English, English S&T reports, and dissertations in Chinese and English. Also included are patents from China, Australia, Germany, France, England, Japan, Russia, and America, plus two organizations (EPO and WIPO). Collected standards include both Chinese and foreign standards, and measurement specifications. While stabilizing the collection and availability of printed resources, NSTL is also actively purchasing on-line and full-text editions of journals for users nationwide. NSTL places great emphasis on the purchase of major international retrospective literature databases as the key resource for science researchers across China, compensating for the great gap of foreign S&T literature in Chinese national history. At the same time, NSTL is increasingly strengthening its provision of services related to open resources on the Internet.
Chart 2. NSTL Resource Map of S&T Literature
2.2 Business Management
NSTL embodies a whole set of standardized and scientific operation workflows and mechanisms, from literature-collection through resource processing, data storage, networking services, and data analysis of S&T literature, described below:
Literature collection: to organize and study the evaluation system, establish the selective database of NSTL literature resources, and unify budget and procurement processes, as guided by the developmental needs of the country and society.
Data processing: distribute the collected literature to each departmental unit on the basis of rules, and process the metadata information within standard time-limit and with audited accuracy of the overall process.
Data storage: establish unified and centralized data storage, as the foundation of Web services, data-mining and information extraction, and uniformly store all types of metadata.
On-line service: the NSTL online system provides 24-hour service to users nationwide, including the requirement that document delivery shall be finished within one working day, and that the online service be available 7 x 24. Additionally, NSTL has worked to speed up the construction and usage of the central service system, and to improve the application scale and efficiency of system resources.
Data analysis of scientific and technical literature: the analysis and processing of citations from foreign journals done by NSTL facilitates the in-depth discovery of the scientific information for future use.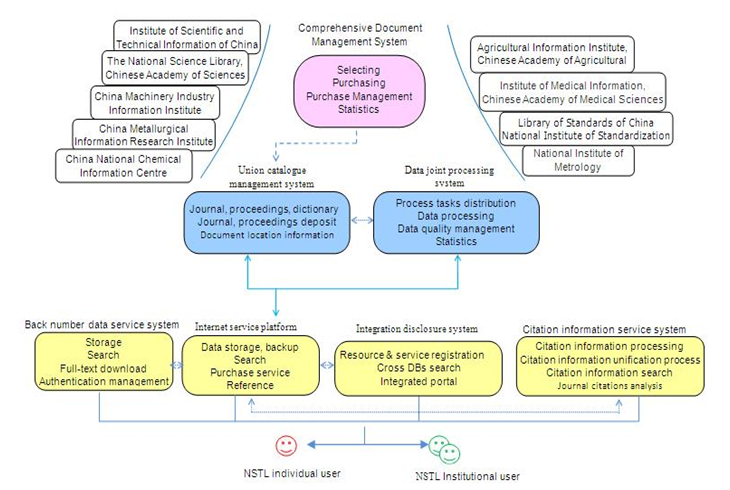 Chart 3. Figure: NSTL Digital Service Platforms
3. NSTL Systems and Services
3.1 Brief introduction to online services
NSTL provides scientific researchers and educators with nationwide information availability via the Internet. Services include S&T metadata retrieval, cross database searching, document delivery, checkout and borrowing, advice and consultation, citation service, retrospective data service, Chinese preprint service, and domestic hotspot scientific gateways. Detailed descriptions follow:
Metadata Retrieval: Through the NSTL network service platform, all types of metadata for NSTL resources can be retrieved, and the availability of local resources for any given user can be determined through the assistance of a knowledge base, which can facilitate user access of scientific literature.
Cross Database Search: The registration system for national S&T resources was established with standard service interfaces, to enable cross-database searches on the resources registered by domestic information services, making it easier for readers to get to national level S&T information resources.
Document Delivery: In response to full-text requirements resulting from the metadata retrieval of S&T literature, document delivery is provided within the specified time. Users can also send their requests to the NSTL for all types of S&T literature through the service of "checking out and borrowing", in which servers would transfer their requests to an automated service to provide assistance to those seeking the desired literature.
Advice and Consultation: NSTL provides virtual consultation services over the network, with consultants from nine membership ministries offering on-line and real-time advice in turn, or non-real-time consultation by e-mail.
Citation Service: NSTL processes and analyzes citation information from international journals and conference proceedings, in order to supply domestic web users with comprehensive information mining service.
Retrospective Data Service: As part of state services, NSTL offers retrieval and full-text download services from retrospective database resources, purchased from internationally renowned publishers, to the nationwide scientific community without any charge.
Chinese Preprint Service: NSTL has established a Chinese preprint service center, that accepts research papers from domestic users.
Domestic S&T Hotspot Gateways: NSTL has built domestic hotspot scientific gateways in 17 academic fields, guided by current S&T development, collecting research hotspots and dynamic information in these areas for the convenience of scientific researchers.
3.2 NSTL Nationwide Service System
NSTL online service platform provides a central web service based in Beijing, and also mirror image websites in eight other cities, to ease access from across the nation. In addition, for the user's convenience, NSTL has developed the 'service station mode', extending NSTL systems to all institutions to strengthen the service system.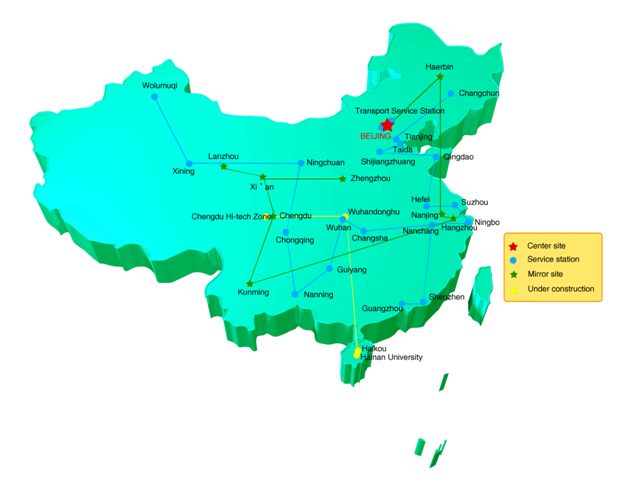 Chart 4. Figure: NSTL Nationwide Service System
3.3 Online services
NSTL online service has moved from the simple mode of providing services directly to readers, to the multi-service mode, efficiently supporting the business of other domestic information service institutions. Many types of web service interfaces (including retrieval, document delivery, and so on) are offered, and the NSTL online service system is open to individual readers, as well as to domestic information service agencies. It completely supports the use of the third-party information service providers. Those with inadequate resources and funds can easily access NSTL resources, resulting in the efficient support of technology and resource usage to the nationwide science and technology service institutions.
The knowledge base built by NSTL can be deployed in NSTL center sites, mirror sites, or service sites. The institutions providing services jointly with NSTL may register their own resources into the NSTL base, enabling them to be found through the NSTL retrieval module. During information retrieval, users will be shown both local resources and centralized resources from NSTL, enabling the maximum use of local sources. The role NSTL plays is not only that of an information provider, but also an infrastructure supplier for resource discovery, retrieval, and services. It is possible for users to choose whatever mode of service as they like, with NSTL serving as the channel of last resort for literature resources, when others are not available. NSTL integrates these roles, providing literature discovery services and guaranteeing the infrastructure for related services, supporting the availability of domestic S&T literature services.
4. Future Development
The information assurance system of S&T literature is an important part of the national support system for innovation. With the rapidly growing development of science and technology in China, NSTL will no doubt undertake increasing challenges and be entrusted with the historical tasks of widening the scope and improving the quality of its services. To continue the improvement and development of services in its current phase, NSTL will:
1) Establish a high-efficiency central service system and improve integrated services by:
continually updating technology, enhancing the retrieval function, and building out the knowledge base;
deepening what is retrieved and correlated, focusing on the knowledge mining of the literature.
2) Make overall services available online and completely open, including providing support to 3rd party service institutions by:
continuing to support the 3rd party information service institutions and provide joint services, linking central services with other institutions for the retrieval of local literature, document delivery and information consulting;
making NSTL service a part of the local literature service and maximize the convenience of NSTL service for end-users, supporting the secondary development and in-depth tailored provision of NSTL resources and services.
3) Organize and support members and 3rd parties to popularize NSTL services, encourage the use of NSTL resources, launch value-added services, and up the level of operation of the guaranteed system of China national S&T literature service.
Bibliography
[1] Yuan Haibo. "Practice of the Joint Construction and Sharing of Information Resources —the Construction and Development of National Science and Technology Library", Journal of the China Society for Scientific and Technical Information, 2002, 21(1):57-62.
[2] Zhang Xiaolin. "The Effectiveness and its Evaluation for NSTL", Library and Information Service, 2008, 52(3):62-65.
[3] Qiao Xiaodong. "The Change for Service Mode of National Science and Technology Library in the New Era", Digital Library Forum, 2008, (12):50-52.
[4] Liang Bing. "The Development of NSTL Science and Technology Literature Service System in the New Era of Independently Innovates". The Conference of Service and Development of Special Library in the New Era of Independently Innovates, Guangdong, China, 2006.
About the Authors
Qiao Xiaodong is a Senior Researcher and Director of the Information Technology Support Center, Institute of Scientific and Technical Information of China (ISTIC).
| | |
| --- | --- |
| | Liang Bing is a Senior Engineer in the Information Technology Support Center, Institute of Scientific and Technical Information of China (ISTIC). |
| | |
| --- | --- |
| | Yao Changqing is an Associate Research Fellow at the Institute of Scientific and Technical Information of China (ISTIC). His interests are in the development of the S&T information management system, digital rights management based on DOI and the policies and platforms of the S&T OA journals in China. |